Vintage Apple Cider Donuts Recipe
What's your favorite thing about fall? We love traveling far and wide for authentic apple cider donuts straight from the farm!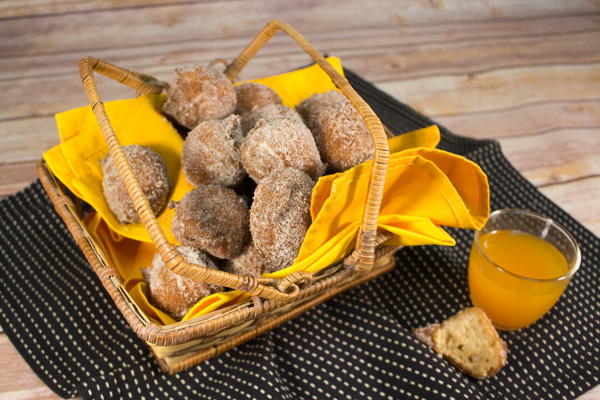 Vintage Apple Cider Donuts Recipe
If there's one thing we love about fall it's the abundance of delicious food. Apple cider donuts are no exception. Get 'em while they're hot! Ours are made easy using a baking mix, apple pie spice, and other simple ingredients. Fried up and rolled in cinnamon sugar, these tasty donut holes will be your new favorite thing about the turn of the season. Share them with your loved ones when you make them hot and fresh on a crisp fall morning this season. Mm, mmm.

Ingredients
2 cups baking mix (such as Bisquick)
1 cup flour

1

/

4

cup sugar
1

1

/

2

teaspoon Apple Pie Spice (or a bit more if you like)
pinch of salt
1 egg, beaten
1 cup apple cider
vegetable oil for frying, about 4 cups
1 cup sugar
1 teaspoon cinnamon
Instructions
Combine baking mix, flour, sugar, spice and salt in a large bowl, fluffing with a fork to mix. Beat the egg and add the cider. Add the egg/cider mixture to the dry ingredients and mix until it is a sticky thick batter. Add more baking mix by tablespoonsful if necessary it should be like a very thick pancake batter.

Combine sugar and cinnamon in a medium bowl and set aside.

Heat a deep, wide pot or a wok over medium-high heat and add oil to a depth of 3 inches. Use a thermometer to check the oil it should be at 350 degrees F before you add any donuts.

Use a small ice cream scoop or a large melon baller to measure out portions and drop the batter into the oil about 6 at a time they will bob and roll so use a wire sieve or tongs to keep them frying on one side at a time.

Fry for 3 minutes and then turn and continue to fry for another 3 minutes or until they reach a medium brown color - if the balls are larger than 1 inches they may take a bit more time but adjust the heat keep the oil at 350 continuously so that they do not get too brown before the center is cooked.

Use a wire sieve or slotted spoon to remove the donuts to a wire rack set over paper towels in a baking sheet and continue to fry the rest of the dough. While each batch is frying, drop the finished donuts into the cinnamon sugar mixture while still warm and toss to coat, then return to the wire rack to finish cooling.
What's your favorite fall recipe?
Your Recently Viewed Recipes