13 Chipotle Copycat Recipes
These Chipotle Mexican Grill recipes are even more delicious when they're homemade!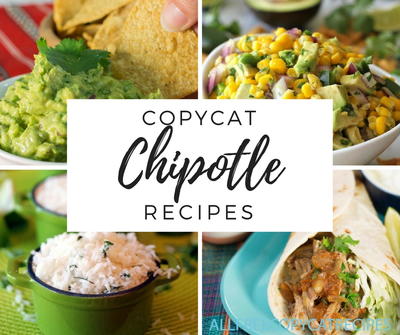 Chipotle Mexican Grill is one of the most awesome fast food restaurants out there, mostly because it's fast food transformed. It's all about using the best fresh ingredients to create meals that are memorable, inexpensive and great to eat on the run. We've gathered some of the very best recipes inspired by this one-of-a-kind fast food chain.

Using the easy copycat recipes below, you can create an entire feast for your family, featuring incredible main dishes, sides, and starters. What are you waiting for? You'll fool all of your guests when you present them with this Chipotle Mexican Grill inspired party food.

Watch and Learn: Chipotle is famous for its incredible guacamole! Watch the video below for Chipotle's Guacamole Copycat, and learn how to make this delicious dip at home:

Sign Up for More Free Copycat Recipes
Table of Contents
Burritos, Bowls, and Tacos
If you're a fan of this Mexican-style eatery, it's likely you've gone in craving one of their famous burrito bowls, taco plates, or large and filling burritos. Whatever you fancy, you can bring it home with one of the many copycat recipes below. From steak and chicken to veggies and carnitas, there's something below for every Chipotle fan. 
Salsa, Guac, and Queso
When you're in the mood for a snack just as delicious as your favorite Chipotle menu items, why not enjoy some of their lighter fare? With these starter recipes, you'll be able to begin any Mexican-style meal on the right foot.
Your Recently Viewed Recipes