Easy Thanksgiving Recipes: 8 Restaurant Side Dishes for Thanksgiving
Bonus: Get our newsletter & special offers for free. We will not share or sell your email address. View our Privacy Policy

How to Make Authentic Mexican Tacos
Not every carne asada tacos recipe you come across is truly authentic. Why not learn how to make Mexican-inspired tacos the real way?
By:
Chelsea Scarnegie, Editor, AllFreeCopycatRecipes.com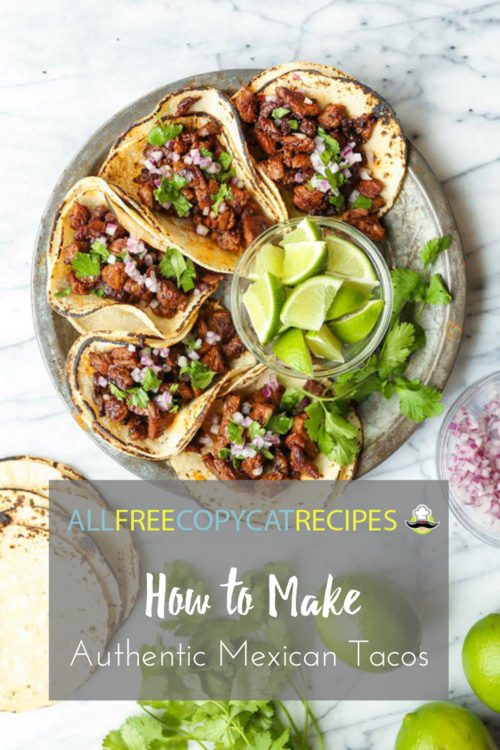 Sometimes, Taco Bell and Chipotle just won't cut it, and only an authentic taco recipe will satisfy your craving for Mexican food. With this article, you can learn How to Make Authentic Mexican Tacos that truly are the real deal. Thanks to the surge in food truck popularity, it seems that more and more people have been searching for a street tacos recipe that most closely matches their authentic culinary experiences. Here, you'll learn how to identify authentic Mexican tacos and will even find a delicious new recipe (or two) to try!

Of course, nothing beats actually going to a real Mexican restaurant to get your taco fix - especially if the restaurant is owned and operated by someone who knows their stuff! However, here at AllFreeCopycatRecipes, we believe that everyone has the skills to make the cuisine of their dreams come true. Whether you're an experienced cook or more of a novice in the kitchen, we hope that you'll now have the tools to create exquisite tacos right in the comfort of your own home.

Sign up for more free copycat recipes
Are Tacos Authentic Mexican Food?
Tacos are authentic cuisine treasures from Mexico that are wildly popular here in America, although they are not always made authentically.

Unfortunately, when Americans think of tacos, they are more likely to think of the food served at Taco Bell rather than real Mexican tacos. This is unsurprising. After all, we are a melting pot that takes pride in blending different cultures and adapting traditional recipes.

However, if you want the real authentic taco experience, here are some things to keep in mind:
Authentic tacos are soft–not hard. Hard tacos are an American "Tex-Mex" invention. Real tacos are made with corn tortillas that are often freshly pressed, hot, and moist.
You can use a wide variety of meat for filling but not hamburger
Authentic tacos nearly always include cilantro and diced white onion. Sometimes, taco vendors also offer radish slices, grilled onion, or a whole cooked pepper.
It is always encouraged to flavor your tacos with fresh limes!
You will rarely find lettuce, tomato, shredded cheese, or sour cream.
As for fish tacos, it's nearly certain that indigenous North Americans have been eating fish in a tortilla for thousands of years. However, when we think of a fish taco, what usually comes to mind is a Baja California creation that
originated only about 50 years ago
.
As the fish tacos traveled north into the United States, they began to be prepared on a grill rather than the fryer. Overall, this newer taco creation is indeed an authentic treat thanks to those Baja innovators.
If you're looking for authentic fish tacos with cabbage, it doesn't get more real than these
Homemade Baja Fresh Fish Tacos
!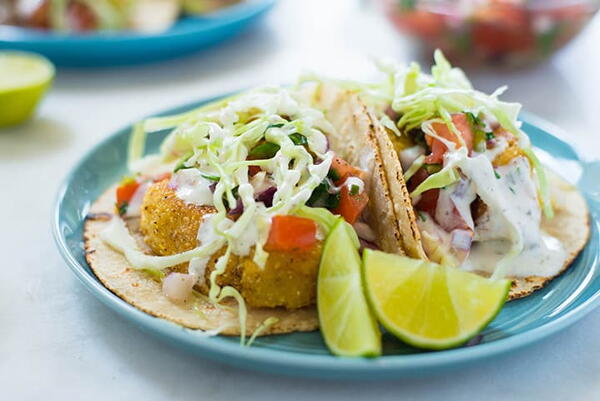 How Are Mexican Tacos Made?
If you're worried that this all sounds complicated – fear not. Learning how to make authentic Mexican tacos at home is much easier than all those crazy taco hybrid recipes out there.

For the freshest taco possible, you'll want to use ingredients that are currently in season. (Want to know more about what vegetables are in season? Click here to download a handy free infographic from our friends at AllFreeCasseroleRecipes!) You can use tomatillos when tomatoes are not in season, and vice versa. When neither ingredient is in season, canned tomatoes still taste better than off-season produce.

Traditionally, all vegetable ingredients (including tomatillos and chipotles) are boiled and mashed into a braising liquid with some ground cumin, oregano, and salt. Chicken is browned like normal, but it might help add some flavor by cooking it over the stove with chicken stock as well as the braising liquid. Be sure to taste the concoction to make sure it's flavored to your liking. Otherwise, the chicken will be just as bland! (Check out this Copycat Cafe Rio Shredded Chicken Taco Recipe for some tasty inspiration!)

For beef tacos, you can use top sirloin, skirt steak, or flank steak–the choice is yours! Be sure to thoroughly mince your meat until it looks like ground beef. Then, saute with chopped onions, cumin, chili powder, lime juice, salt, and pepper.

Once you've removed the chicken from the bones or finished cooking your beef, challenge yourself by making some authentic tortilla shells. By going the extra mile, you'll be eliminating all the unnecessary ingredients that you would find in store-bought tortillas. To make your own tortillas, all you need are masa, water, and salt. Once you've combined the ingredients into a doughy mixture, separate the dough into golf ball-sized pieces, flatten them out, and cook in a pan–no oil required! (Learn how to make 3-ingredient authentic Mexican corn tortillas from Isabel Eats!)

Chicken tacos go great with fresh avocado and cilantro, and beef tacos were practically made for a combination of minced onion and cilantro.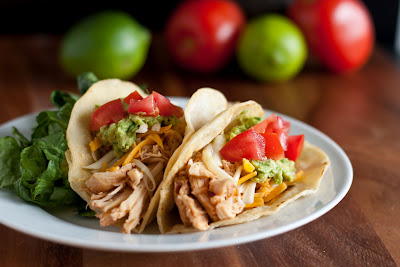 How to Eat Authentic Tacos
If you're wondering what toppings to put on a taco to make it truly authentic, we recommend the following:
Onions
Cilantro
Guacamole (see video below!)
Salsa picante
Lime
Salt
Toppings like shredded cheddar cheese, diced tomatoes, sour cream, shredded lettuce, chili beans, and hot sauce are what you would find on Americanized tacos. They're certainly tasty, but not exactly authentic.
Authentic cheese for tacos can include
queso fresco
(creamy + soft),
queso anejo
(aged version of queso fresco),
cotija
(hard cow's milk cheese),
Oaxaca
(similar to Monterey Jack),
panela
(Mexican version of cottage cheese),
manchego
(mixture of cows' and goats' milk), or
asadero
(great for melting).
Looking for authentic salsa for tacos? Try this
Copycat Dump Salsa Recipe
!
Now that you have all your goodies in place, you might be wondering,
"How do you eat a taco without all these tasty ingredients falling out?"
Luckily for you, we have a few "taco tips" that will ensure your masterpiece doesn't crumble all over the plate:
Opt for soft shelled tacos. Not only is this the authentic way of preparing them, but it also means that you won't have to worry about the shell cracking and the taco falling apart in your hands.
Go easy on the filling. It can be tempting to really pile on all those onions, cilantro, and guacamole, but this only increases the risk of an ultimately messy platter. Fill your taco with a little of everything – you should be able to fit it in your mouth! More importantly, you'll probably have leftovers for tomorrow's meal.
Pinch the top of the taco between your thumb, index finger, and middle finger. There's no shame in eating these Mexican treats with your hands! After all, opting for a fork and knife comes off as "snobby" in taco culture.
Bamboo skewers can be used to help keep your tacos upright – just in case you need a little extra assistance!
Looking for a tasty new guacamole recipe to try? Check out this amazing video to learn how to make our Chipotle Guacamole Copycat: 
Are Authentic Tacos Healthy?
Yes! In Mexico, the taco is viewed as a whole entrée. That means it is cooked with a well-rounded meal in mind. You have protein, starch, and veggies all wrapped up in one delicious little dish. The problem with Americanized tacos is that they are often prepared quickly and cheaply, which means heavy use of the deep fryer. We also tend to go a bit heavier on the cheese, which is never a healthy habit.

Actually, most authentic Mexican food is quite good for you. It often includes ingredients like beans (fiber), cumin (iron), tomatillos (vitamins C and K), corn (fiber), avocado (monounsaturated fats), pepitas (antioxidants), and limes (vitamin C).

For comparison, an authentic Mexican taco has about 125 calories, while the Americanized taco with beef, cheese, and lettuce has about 155 calories.

Just be aware that Mexican street tacos are often made more unhealthy when they pop up at festivals – sometimes up to 250 calories per taco.
Copycat Taco Recipes
Feeling hungry? Now that you know how to make authentic Mexican tacos at home, try any of these delicious copycat taco recipes from favorite restaurants like Rubio's, Chipotle, and Chili's. These dishes are far more authentic than what you would find at a typical fast food joint:
For comparison, here is a brief list of the authentic taco's appropriated cousin - the Americanized taco. While not truly a Mexican creation, these tacos from places like Jack in the Box and Taco Bell can still be tasty!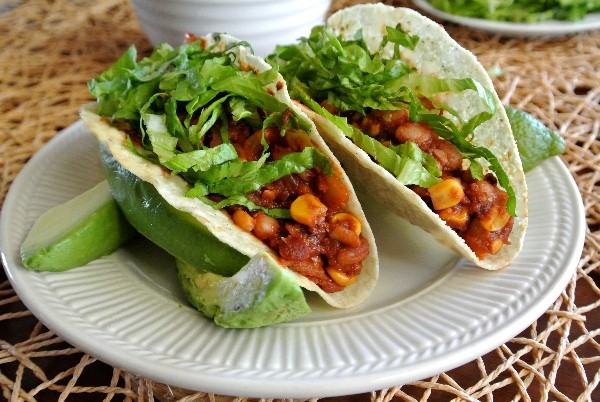 Let's be honest: eventually, you're going to get a craving for Taco Bell. With this list of 18 Taco Bell Copycat Recipes, you can save yourself a drive and make your own Taco Bell meals at home: 18 Taco Bell Copycat Recipes
Free recipes, giveaways, exclusive partner offers, and more straight to your inbox!
Tags / Related Topics
Your Recently Viewed Recipes
Images from other cooks


Something worth saving?
SAVE all your favorite recipes
ADD personal notes
QUICKLY reference your recipes