Knockoff KFC Fried Chicken Recipe
We've found the secret a perfect replica of the infamous Kentucky Fried Chicken recipe. From the spice to the crunch, this recipe is spot-on!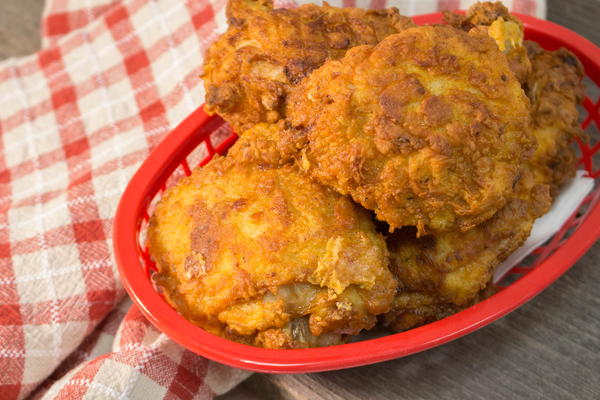 Knockoff KFC Fried Chicken Recipe
This Knockoff KFC Fried Chicken Recipe is the recipe you've been waiting for. Paprika and garlic powder give the chicken an extra kick of flavor. This recipe tutorial will shed light on how to make KFC fried chicken batter that your family will flip for. If you're looking for an easy weeknight dinner that will just hit it out of the park, this take on Knockoff KFC Kentucky Fried Chicken will save the day. This recipe is also ideal for any potluck or picnic. Everyone is sure to enjoy it, and they'll be asking you where you learned how to make KFC chicken.

Click here for more free copycat recipes!
Makes4 Pieces

Ingredients
8 pieces of chicken (a whole chicken cut up or a 4 leg-and-thigh quarters, cut in half)
2 cups buttermilk
2 teaspoons hot sauce (like Tabasco)
2 cups all purpose flour

1

/

2

cup plain bread crumbs
1 teaspoon paprika

1

/

2

teaspoon dried thyme

1

/

2

teaspoon salt
2 eggs

1

/

2

cup chili sauce
4 cups vegetable oil for frying
Instructions
In a wide bowl that will hold the chicken in one layer, mix the buttermilk and hot sauce, then add the chicken pieces, turning to coat. Let stand at room temperature for 30 minutes, or refrigerate up to 12 hours.

Mix the flour and bread crumbs with the paprika, thyme and salt in a large plastic bag and shake to mix well.

Combine the eggs and chili sauce in a shallow bowl.

Remove the chicken from the buttermilk marinade and place on a wire rack over a rimmed cookie sheet and allow excess buttermilk to drip off for a few minutes while you prepare the oil for frying.

Using a wide deep skillet or a wok, pour in enough oil to measure 3 inches deep.

Place over medium-high heat and bring to 350 degrees F. use a thermometer to check the temperature.

While the oil is heating, drop chicken, a few pieces at a time, into the bag with the dry ingredients and shake to coat. Dip them into the egg mixture one at a time, then back into the dry ingredients again. Shake off excess coating and lay back on the cooling rack.

When the oil is at 350 degrees F, use tongs to lower a few pieces at a time into the hot oil; do not crowd the pan.

Cook for about 15 minutes, turning once and keeping an eye on the oil temperature, adjusting the heat to be sure the oil remains at 350 degrees F.

When chicken pieces are nicely browned, remove from the oil with tongs and set on a clean cooling rack / baking sheet so that air circulates around them.

Place into a 300 degree F oven while you repeat the procedure until all of the chicken is cooked; the chicken will continue to cook if any pieces are not quite cooked through in the frying process.
How to Make KFC Chicken Extra Crispy
For years, KFC has been a fast food favorite in American homes. According to the Smithsonian, KFC has approximately 20,000 stores open worldwide. But over the years, the one thing they've been able to keep a secret is how they get their fried chicken so delicious and crispy. That careful balance of spices is replicated above, but what about that crispy crunch?

This recipe uses a deep fryer to create this copycat KFC chicken recipe, but you can use any deep pot or Dutch oven, as long as the sides are at least 3 inches deep.

Before you fry the chicken, let it sit after you've coated it in flour for 10 minutes or so. The secret to perfect fried chicken is a crispy crust. Letting the chicken sit 15-20 minutes after you've coated it in flour will help the breading set and should result in an ideal crust. It will also ensure that the chicken is at room temperature when you fry it. If you like especially crispy crust, you can also double-fry your chicken. According to Pawan Takhar, a food engineer from the University of Illinois, frying your chicken a second time will allow even more water to escape, resulting in the crispiest crush possible. These simple tricks will help you create copycat KFC chicken that is just as satisfying as the original — if not more so!
Your Recently Viewed Recipes