Lemon Tuna Olive Oil Pasta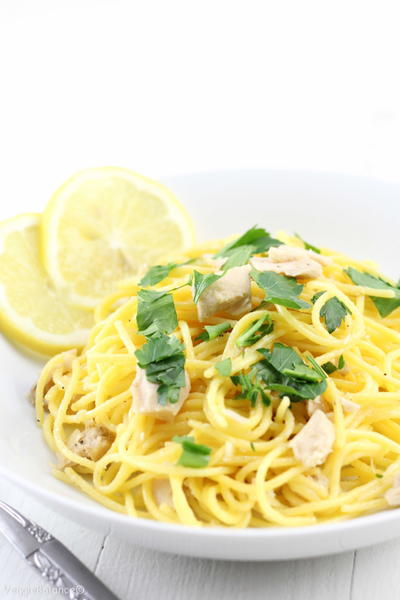 Lemon Tuna Olive Oil Pasta
With some white albacore tuna, a freshly squeezed lemon, and a bit of extra virgin olive oil, you can create this Lemon Tuna Olive Oil Pasta. This tuna pasta recipe is a refreshing way to end the day. Tuna pasta recipes like this are easy to make, which means you'll have more time to enjoy it after it's done. This pasta is also light, so you won't feel overly bloated after eating. Create this pasta for a fancy night in with your husband or bring it to your next dinner party.

There is nothing tastier than fresh albacore tuna topping a delicious meal you've prepared on your own. Your spouse will be so impressed when he comes home to find that you went above and beyond to prepare dinner. Little will he know that the meal itself was very simple and took you little time at all. Kick back with a glass of white wine, and enjoy the afterglow of a delicious, home-cooked meal.
Serves6
Fettuccine Alfredo Recipe
This classic Italian dish is another great pasta recipe that you can't help but love. Check out how easy it is to make this homemade Fettuccini Alfredo!
Your Recently Viewed Recipes