Dreamfarm Scizza Pizza Scissors Review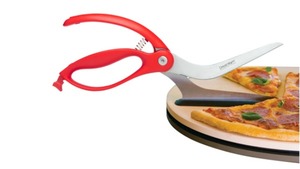 Dreamfarm Scizza Pizza Scissors Review
Gifted By: Dreamfarm
www.dreamfarm.com
Reviewed by Arielle Matlin, Editor, AllFreeCopycatRecipes.com
Why use a pizza cutter or wheel, when you can use Dreamfarm Scizza Pizza Scissors? These pizza cutting shears are fun to use and show off. Not only do they look cool, but they actually work really well, too!
I have to say, this was the first time I have used scissors to cut a pizza, and I was quite surprised by how well they work. The extremely sharp, stainless steel blades cut through hot layers of crust, sauce, and cheese with ease. I liked that the blades were extra-long. It only took a couple motions to cut through an entire pizza. The high-quality materials used to make the shears make them extremely durable.
The key to the Scizza is the non-stick nylon base. It acts as a guide while cutting through the pizza. It also has a spatula tip which makes separating and lifting the slices onto a plate much easier.
Kids and adults will go nuts for these pizza scissors. Break these out at your next pizza party and every one will ask where they can find their own pair.
Your Recently Viewed Recipes