Global Grub Meal Kits Review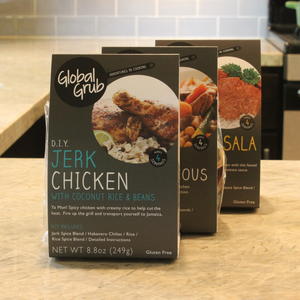 Global Grub Meal Kits Review
Gifted By: Global Grub
globalgrub.com
Reviewed by Arielle Matlin, Editor, AllFreeCopycatRecipes.com
The Global Grub Meal Kit Prize Pack includes three meal kits that anyone can use to make a delicious dinner. The DIY kits included in the prize pack are for making homemade Tagine, Jerk Chicken, and Chicken Tikka. Each kit has easy to understand instructions, tasty ingredients for the side dish, and even pairing recommendations.
Coming up with new and exciting dinner ideas can be difficult and then finding all the ingredients at the store just makes it a pain. I love that Global Grub makes kits that are filled with spices and exotic ingredients you may otherwise not try. Each kit is inspired by a cuisine from around the world and allows you to cook food you wouldn't have thought to make on your own necessarily.
Each kit includes the difficulty level, prep time, cooking time, and detailed instructions with drink pairing suggestions. I love how detailed and well thought out the directions are. They make sure you do all the steps in the right order in order to make the best meal possible in the shortest amount of time.
My favorite of the three kits was the Jerk Chicken. I love the flavors in the rub and the coconut rice makes the dish complete. I like that the Tagine kit can be made with either chicken or lamb. I would love to try both! The Chicken Tikka was the most boldly flavored of the three kits. I loved the different techniques in cooking that each kit employed. Each of these meals tasted authentic and delicious.
Global Grub is launching a subscription service so you can keep trying to cook new cuisines often. In each month's box, there are two Global Grub kits, plus an item to help or enhance the cooking experience. In addition, for each kit sold, Global Grub donates a meal to someone in need. With the subscription service, a meal would be donated for each kit included! Now you can enjoy your own homemade dinner, while also providing for a less fortunate person.
Your Recently Viewed Recipes