Joseph Joseph M-Cuisine Popcorn Maker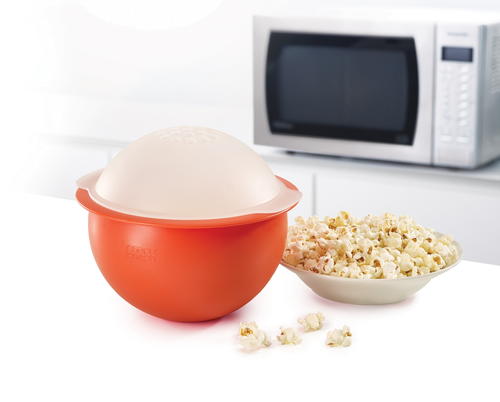 Joseph Joseph M-Cuisine Popcorn Maker
josephjoseph.com
Reviewed by , Editor, AllFreeCopycatRecipes.com

Cooking up a delicious batch of homemade popcorn is simple with the Joseph Joseph M-Cuisine Popcorn Maker. This handy microwave cooker doesn't require you use oil or butter so you can make healthier popcorn. The silicone build of the popcorn maker means it is even dishwasher safe.



I was pleasantly surprised by how easy it is to use the small popcorn maker. Simply fill the bottom silicone kernel holder with popcorn kernels; no need to measure since there is a fill line. Then, place the clear lid on top and put in your microwave. My microwave popped all the kernels in less than two minutes, but it varies among microwaves.



After making the popcorn, the lid makes it simple to remove un-popped kernels. Small holes on the top drop all the kernels into a bowl when you invert it. After removing any kernels, you can quickly add butter, seasonings, or serve the popcorn as-is. When adding seasoning, it is simple to mix up by shaking the bowl with the lid attached.



I love the size of this popcorn maker. It makes it so convenient to enjoy popcorn at work or school because you can keep it in a drawer. You can make a batch of popcorn and enjoy it all afternoon long!
Your Recently Viewed Recipes