Smart Planet Gummy Candy Maker Review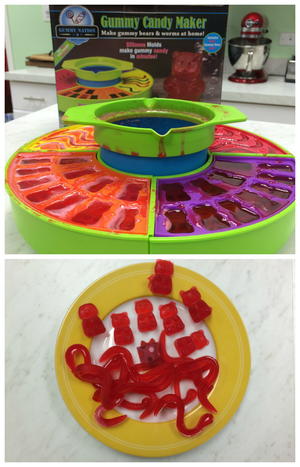 Smart Planet Gummy Candy Maker Review
Gifted By: Smart Planet
www.smartplanethome.com
Reviewed by Arielle Matlin, Editor, AllFreeCopycatRecipes.com

The Smart Planet Gummy Candy Maker has everything you need to make your own homemade gummy bears and gummy worms. The kit even includes a giant gummy bear mold. Using the maker is simple and you will only need a couple ingredients to get started.
Assembling the maker was extremely simple and took less than a minute. Ice goes below the four silicone molds in order to make the gummies set quickly. All the ingredients for the candy are put in the center, microwavable bowl.
To make the gummies, the bowl is microwaved with all the ingredients until it is boiling. Using the spouts on either side, the liquid is poured right over the silicone molds. After waiting just a few minutes, the candy is ready to be removed from the molds.
I was surprised that it was so easy to remove the gummies from the trays. Because the material is silicone, none of the gummy pieces stuck to the mold or broke. I particularly loved how the gummy worms turned out because they had the same texture as the ones sold at the store.
I think this is a great kit to use with children and grandchildren since you only need to use the microwave. They will be fascinated by the process and making their own homemade gummy recipes.
Your Recently Viewed Recipes