Dave's Gourmet Pasta Sauce Review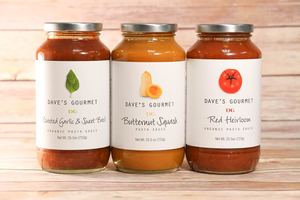 Dave's Gourmet Pasta Sauce Review
Gifted By: Dave's Gourmet
www.davesgourmet.com
Reviewed by Arielle Matlin, Editor, AllFreeCasseroleRecipes.com
Take a taste of one of Dave's Gourmet Pasta Sauces and you will never believe it came from a jar. The Butternut Squash Pasta Sauce, Organic Roasted Garlic & Sweet Basil Pasta Sauce, and Organic Red Heirloom Pasta Sauce all taste freshly made and are rich in flavor.
My favorite sauce was the Roasted Garlic and Sweet Basil Pasta Sauce. I loved that it had chunks of vegetables that you could actually make out, unlike most store-bought sauces. After I ate all my pasta, I used the sauce as a bruschetta topping on bread. It tasted great and I would actually serve it like that as an appetizer. The Red Heirloom Sauce is also great, but less chunky. I would pick this sauce if I was cooking for kids since it is a little lighter and doesn't have as many chunks of vegetables.
Butternut Squash is combined with roasted red peppers and other vegetables to create the Butternut Squash Pasta Sauce. One of our editors took home the Butternut Squash Sauce to sample for dinner. They paired it with cheesy pasta and turkey sausage. She expected the sauce itself to be heavy, but the garlic and red pepper mixed in with the sauce created a light and flavorful topping that was perfect for the whole wheat pasta. This is also a great sauce to serve over ravioli or even as a sauce for other vegetables.
The Dave's Gourmet sauces fit the "gourmet" title perfectly. They all taste like they were cooked by someone slaving over the stove all day. The 25.5 oz.-sized jars are a great size and will feed the whole family.
Your Recently Viewed Recipes