Ecocozie Food Storage Containers Review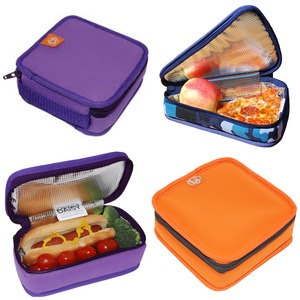 Ecocozie Food Storage Containers Review
Gifted By: Daisy Container Company
www.daisycontainercompany.com
Reviewed by Arielle Matlin, Editor, AllFreeCasseroleRecipes.com
The Daisy Container Company's line of Ecocozie Food Storage Containers is a great, eco-friendly solution for packing your lunch every day. The containers feature a food-safe liner that is easy to clean, and reuse over and over. The line has three sizes including a rectangular container, square container, and triangular container designed to hold pizza.
Each of the Ecocozie sizes fits a special need. The square shaped container is perfect for carrying a sandwich. No need to use a plastic bag simply put the sandwich directly in the container. The Rectangle shaped Ecocozie is great for holding vegetables or snacks. The triangular container was my favorite because I had never seen this shaped food storage container before. It is perfect for holding a slice or two of leftover pizza. You can store all of your hot or cold food using these lined containers.
The vibrant colors of the containers make them fun for kids to use. By ditching the plastic bags, and sporting Ecocozies, you will encourage an eco-friendly lifestyle. After using the containers they rinse off easily or can go into the dishwasher.
Your Recently Viewed Recipes