Deli Style Hawaiian Macaroni Salad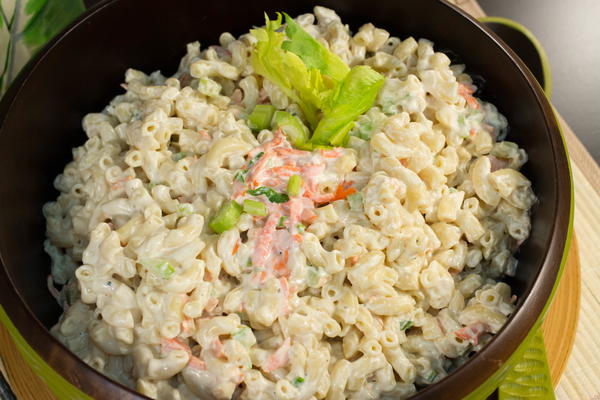 This easy pasta salad recipe is perfect for any family picnic or church potluck. It is easy to make, creamy, and incredibly tasty. Side dish recipes don't get much easier than this one, so make sure you save it in case you need to whip up a quick dish for a potluck or family gathering. This Hawaiian salad is loaded with vegetables and flavor. It is light and refreshing, perfect for outdoor potlucks during the summer. No matter the occasion, this easy pasta salad will be a new staple for your potluck table.
Ingredients
1 pound elbow macaroni

1

/

2

cup apple cider vinegar
2 cups whole or 2% milk (not skim)
2 cups mayonnaise, divided
1 tablespoon brown sugar

1

/

2

teaspoon salt
1 teaspoon fresh ground black pepper
4 green onions, thinly sliced
1 large carrot, finely grated
1 cup celery, finely chopped
additional salt and pepper, to taste
Instructions
Bring 4 quarts of water to the boil. Add a teaspoon of salt and the macaroni and cook until very soft, for 15 minutes. Drain well and return to the pot. Stir in the vinegar, tossing well, then let stand 10 minutes to cool.

In a medium bowl, combine 1½ cups of the milk and 1 cup of the mayonnaise with the brown sugar. Whisk into the cooled pasta and toss, adding salt and pepper.  In a small bowl, combine the remaining ½ cup milk with the remaining 1 cup mayonnaise, stir in the green onions, carrot, and celery and toss with the pasta until well coated. Cover and chill for at least 1 hour before serving. Taste and add additional salt and pepper as desired.
Your Recently Viewed Recipes