Copycat Outback Steakhouse Wedge Salad
From the refreshing iceberg lettuce to the flavorful blue cheese dressing, this salad is one you'll be talking about for ages!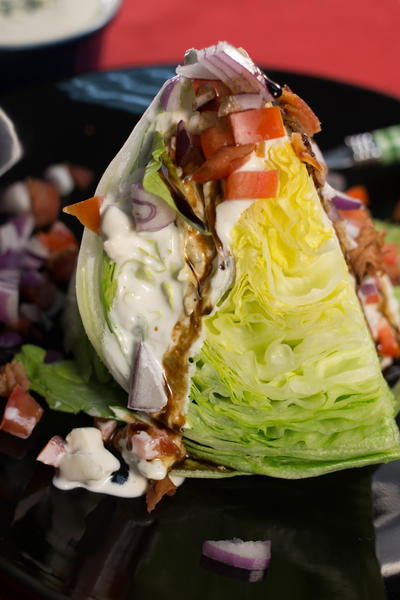 Copycat Outback Steakhouse Wedge Salad
Make an authentic Outback Steakhouse wedge salad tonight with this easy Copycat Outback Steakhouse Wedge Salad recipe. One of our favorite Outback Steakhouse copycat recipes, this starter salad tops a generous portion of iceberg lettuce with blue cheese dressing and a balsamic vinegar glaze. Unlike many other versions of this copycat fave, our recipe includes full instructions on how to make a homemade Outback Steakhouse blue cheese dressing. 

The top of the iceberg wedge is generously layered with crispy bacon bits, sweet red onion, and juicy tomatoes. This classic combination of flavors never fails to satisfy. After all, there's bacon. Even the pickiest carnivores won't object to this delicious salad. 

You can serve this recipe as a starter salad or as the main course for a light meal. Either way, you'll be blown away by how easy it is to make a salad with so much flavor and personality. 

Get more free copycat recipes here!
Serves4

Ingredients
3

/

4

cup mayonnaise

3

/

4

cup buttermilk

1

/

2

cup crumbled blue cheese

1

/

4

teaspoon garlic powder

1

/

4

teaspoon onion powder

1

/

4

teaspoon fresh ground black pepper

1

/

4

cup balsamic vinegar
1 tablespoon honey

1

/

4

teaspoon good quality sea salt
3 slices bacon, cooked, drained, and finely chopped
1 large head of iceberg lettuce, trimmed and cut into quarters

1

/

2

cup ripe tomato, finely diced

1

/

2

cup red onion, finely diced

1

/

4

cup crumbled blue cheese
Sea salt and fresh ground black pepper
Instructions
Make the Outback wedge salad dressing by combining mayo, buttermilk, blue cheese, garlic powder, onion powder, and pepper, stirring well and then chilling until ready to use.

Make the glaze by placing the balsamic and honey in a very small non-stick saucepan and cooking over low heat for about 5 minutes, swirling the pan frequently, until it is thick and syrup-y. Stir in the salt and keep slightly warm.

Cook the bacon, drain it well and crumble. Place a wedge of lettuce on each serving plate, drizzle with some dressing then the tomato, red onion, and blue cheese. Drizzle the glaze over all and sprinkle with sea salt and fresh ground pepper.
Note About the Glaze:
Use the best quality balsamic you can find because when the glaze evaporates and concentrates, it can become bitter if using a lesser quality vinegar. Make only the amount you need at one time as this glaze will only hold for about 24 hours before becoming too syrup-y to pour nicely.

Also if you do not have sea salt, just omit that step in the glaze and use Kosher salt on the salad when it is assembled.
Tips for How to Cut a Wedge Salad
Wedge salads are a deceptively simple food, and you'd be surprised how tiny changes in your method can affect the outcome of your salad. Below are some tips for how to cut your heads of lettuce to make the perfect wedge salads.
Rinse your head of lettuce thoroughly. There's nothing worse than biting into a fresh wedge salad and getting a chunk of fresh dirt with it!

Use a lettuce knife. Any strong, serrated, plastic knife would work. Metal knives expose the lettuce to more oxygen, resulting in that unpleasant browning on the edges of your lettuce.

Chop off the end of the head of lettuce. This makes it easier to slice and removes that icky brown part.

Cut in half, directly down the middle. Then cut those two halves in half again, giving you four equal "boats" of lettuce.
Did You Know?
While we know the origins of many salads like Caesar or Waldorf, no one knows how the wedge salad got its start. Really, no one ever claimed this delicious combination of iceberg lettuce, tomatoes, blue cheese, and bacon. It might be because iceberg lettuce was regarded as more of a "lower-class" food due it being so inexpensive. This salad is often scoffed at as a dish that wasn't fully prepared or costs too much for what it is. Iceberg was pushed to the wayside in favor of more impressive greens for salads, like endive and arugula.

Wedge salads are making a comeback, though. They are often found in trendier restaurants that add their own flair to the classic dish. They are also found very commonly in steakhouses (such as Outback!).

Personally, I love wedge salads and the fact that they are similar across a variety of restaurants. I also find the combination of the creamy blue cheese dressing to be complemented by the light crispness of the iceberg lettuce. 
Your Recently Viewed Recipes