A&P Spanish Bar Cake Copycat Recipe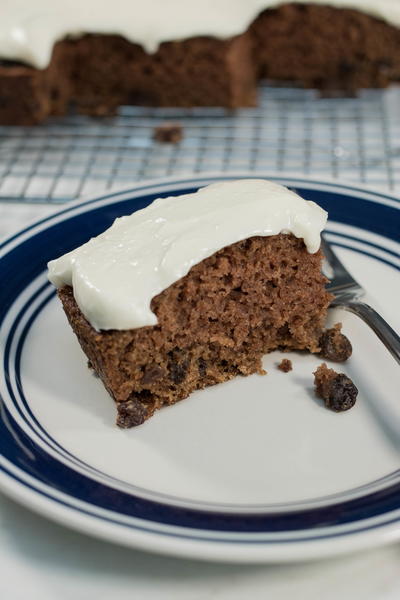 AP Spanish Bar Cake Copycat Recipe
This old-fashioned cake recipe was inspired by the famous A&P cake. This homemade spice cake is full of flavor and topped with the perfect sweet cream cheese frosting. You'll fall in love with this cake long before you take a single bite of it. The aroma of nutmeg and cinnamon will fill your kitchen.  Once you take a bite, you will be hooked. It's a good thing this is a "snack cake," so you and your family can snack on it throughout the day.
This cake is great for winter months when you are craving comforting cakes, such as gingerbread and spice cake. This cake is completely made from scratch, but once you've gathered all the ingredients it can be made in a jiffy! Try out Copycat A&P Spanish Bar Cake when you're planning for your next get together. 
Cooking Vessel Size9 x 13-inch baking dish
Ingredients
1 cup raisins
2 cups flour
1

1

/

2

cup sugar
1

1

/

2

teaspoon baking soda
1 tablespoon unsweetened cocoa powder
1 teaspoon ground cinnamon
1 teaspoon ground nutmeg
1 teaspoon ground allspice
1 teaspoon salt
2 cups applesauce

1

/

2

cup vegetable oil
2 eggs
8 ounces cream cheese, softenend
4 tablespoons butter, softened
1

1

/

2

cup powdered sugar

1

/

3

cup milk
1 tablespoon fresh lemon juice
2 teaspoons vanilla extract
pinch of salt
More Details
Instructions
Preheat oven to 350º F. Spray a 9 x 13 baking pan with cooking spray.

Place raisins in a small saucepan, cover with water and simmer 3 minutes, then drain well.

Sift flour, sugar, baking soda, cocoa, and spices into a large bowl. Add applesauce, oil, and eggs and beat well. Stir in raisins, then spoon into prepared baking pan and bake 30 – 35 minutes until center tests done. Cool on a wire rack until completely cooled.

Prepare the frosting:  Using an electric mixer, cream together the cream cheese and butter, then add the powdered sugar until smooth. Add milk, vanilla, lemon juice and salt and beat until completely smooth. Frost the cake and cut into bar shapes to serve.
More Details
Hello there, fellow culinary explorers! As we embark on another flavorful journey in the realm of cooking and baking, I invite you to step back in time with me. Think of a time when life moved at a gentler pace, when simple pleasures were celebrated, and the heart of a neighborhood was the corner grocery store. Today, we're delving into a recipe that brings back the cherished memories of the past while infusing them with a modern twist. Join me in unraveling the magic of the Copycat A&P Spanish Bar Cake—a creation that promises to ignite your senses and transport you to a world of homemade goodness.

Crafting this old-fashioned masterpiece was sparked by the legendary A&P cake, an iconic creation that generations have adored. Our homemade rendition is an ode to those treasured flavors that have stood the test of time, transforming your kitchen into a haven of aromas and anticipation. The star of the show? A sumptuous spice cake that exudes warmth and coziness in every bite.

Elevating this delightful cake is the crowning glory—a velvety smooth, sweet cream cheese frosting that's as dreamy as freshly spun yarn. It's a match made in culinary heaven, a harmonious blend of flavors that will tantalize your taste buds and leave you craving more. But here's the delightful twist: you won't need to take a single bite to fall head over heels in love with this creation. The moment you begin crafting this masterpiece, your kitchen will come alive with the enchanting scent of nutmeg and cinnamon. It's as if the very essence of comfort has taken residence in your home.

And speaking of bites, prepare yourself for a journey into pure indulgence. That initial bite is an experience that mirrors the joy of discovering a new crochet stitch—the anticipation, the tactile pleasure, and the satisfaction of seeing it all come together. The texture of the cake, intricately woven with spices, dances in harmony with the luscious frosting, creating a symphony of flavors that celebrate the art of baking.

But here's the beauty of the Copycat A&P Spanish Bar Cake—it's not just a dessert, it's a companion throughout your day. Fondly referred to as a "snack cake," it understands your need for little moments of delight. From morning to evening, this cake weaves its way into your routine, offering a slice of comfort whenever you desire. Just like you can't resist picking up your crochet project for a few stitches here and there, you'll find it impossible to resist a nibble of this cake.

As winter wraps its cool embrace around us, our cravings shift to heartwarming treats that evoke a sense of nostalgia. Think of those days when gingerbread houses adorned tabletops and the aroma of spice cakes permeated every corner. The Copycat A&P Spanish Bar Cake captures this sentiment flawlessly. Its carefully blended spices and old-world charm make it the perfect companion for those chilly months. It's a reminder that some things are timeless—like the joy of gathering around the table for a slice of comfort.

Now, for the practical part that we all love—making this culinary marvel from scratch. While it may seem daunting to gather all the ingredients, fear not! Just like tackling a new crochet pattern, it's all about taking it one step at a time. The process is well-crafted and organized, ensuring that each ingredient finds its place seamlessly. Much like the satisfaction of completing a crochet project, the moment you pull the finished cake out of the oven will fill you with an unmatched sense of accomplishment.

And let's not forget the perfect occasion to unveil this masterpiece—the next time you're planning a gathering. Whether it's a cozy afternoon with friends, a family dinner, or a crochet circle meeting, the Copycat A&P Spanish Bar Cake is a delightful addition to your spread. It's a conversation starter, a comfort food, and a testament to your culinary prowess—all in one.

As you weave your way through this recipe, remember that crafting in the kitchen is an art form just like working with yarn. It's about creating memories, sharing joy, and indulging in the simple pleasures that life offers. The Copycat A&P Spanish Bar Cake captures all of this, inviting you to savor the flavors of the past while creating new memories for the future. So, tie on your apron, pick up your mixing bowl, and let's embark on this delectable journey together. Happy cooking!
Your Recently Viewed Recipes