Homemade Prego Spaghetti Sauce
This recipe for homemade pasta sauce is just what your spaghetti has been needing!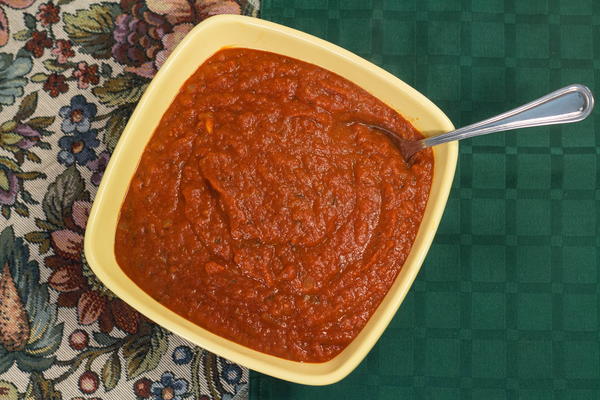 Homemade Prego Spaghetti Sauce
Conjure up pure Italian flavor with this recipe for Homemade Prego Spaghetti Sauce. Pair your meal with meatballs and garlic bread for a fantastic dinner for the whole family. This amazing classic spaghetti sauce recipe is one you won't want to miss. It's the perfect sauce to turn your Italian dinner from good to out-of-this-world!

Unlike the canned tomato sauce you get at the store, this homemade Prego sauce will be hot and fresh. You'll definitely taste the difference. The best part is, it's not even difficult to make. Just have this simmering while you prepare the other parts of your meal. Your favorite Italian recipes will never be the same.

Sign Up for More Free Copycat Recipes
Yields12 Cups

Ingredients
4 tablespoons olive oil
2 cloves garlic, minced
1 onion, finely chopped

1

/

2

cup celery, finely chopped
2 teaspoons dried basil
2 teaspoons dried parsley
1 teaspoon dried oregano
2 teaspoons kosher salt
1 teaspoon ground pepper
3 (28-ounce) cans crushed tomatoes
3 (6-ounce) cans tomato paste
1

1

/

2

tablespoon sugar
Instructions
Heat olive oil in a large pot. Add garlic and cook 30 seconds to a minute.

Add the onions and celery and cook 5 minutes.

Then add tomatoes, tomato paste, and all of the seasonings.

Stir to mix and bring to a boil. Lower to a simmer, cover, and cook, stirring occasionally, for 1 hour. Taste for seasoning, adjust if needed.
What Makes Prego Sauce Taste So Good?
The Prego sauce recipe was perfected by Campbell Soup Company after an unfair lawsuit against them by Heinz in the early 1980s. Campbell Soup Co. wanted to make a product that would hurt the Heinz ketchup sales, but the company did not have the resources to make a market competitive ketchup product. This is where the pasta sauce came into play.

Other pasta companies like Ragu and Hunts used starch to give their pasta sauce that homemade-like thickness, but innovators at Campbell Soup Company used a new technique called "weeping" where water is removed from a solid.

This technique allowed for a more natural premade sauce. They named the pasta sauce product line "Prego" after the Italian phrase for "don't mention it" or "you're welcome." The Prego pasta line has extended with different varieties of sauces from garlic parmesan to mini meatball totaling 19 different sauces. You'll be happy to know that copying this sauce recipe will mean having that real homemade pasta taste for dinner tonight!
Your Recently Viewed Recipes