Copycat Olive Garden Salad Recipe with Homemade Dressing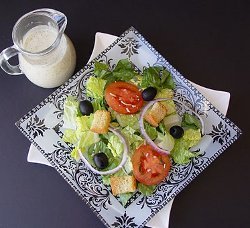 Copycat Olive Garden Salad with Homemade Dressing
Olive Garden is known for great soups, bread sticks, and of course, salad. You can now replicate their amazing salad recipe with this copycat recipe for a Homemade Olive Garden Salad with Homemade Dressing. The dressing recipe is just like the famous Olive Garden dressing: simple, creamy, and perfectly garlicky. This salad recipe is great for starting off a big meal, or it can even be served as a full meal on its own. Keep this recipe on hand for a quick dressing recipe you can whip up anytime. You'll want to save this great copycat Olive Garden salad recipe.
Notes
Italian salad dressing as we know likely originated in North America, not in Italy! Traditionally Italian salads are dressed with a simple combination of olive oil, vinegar, salt, and pepper. The Italian dressing that is now sold in grocery stores and used in many restaurants is believed to have been invented in the 1940s, when a man from Missouri used a homemade family dressing recipe in his restaurant. This was the origin of Wish-Bone Salad Dressing, which is still a popular Italian dressing brand today.
Italian salad dressing is actually quite easy to make at home. All you have to do is toss your ingredients into a blender and mix the ingredients well. Just remember that the recommended ratio of oil to vinegar is three parts oil to one part vinegar. This helps balance the strong vinegar taste and also helps the oil and vinegar blend together, since these two ingredients will always separate if left to sit. That's why it's best to serve your Italian salad right away so your Italian dressing has the perfect blend of flavors.
---
Want more Olive Garden? The 8 Best Italian Recipes + Homemade Olive Garden Favorites free eCookbook is a fabulous collection you'll want to consult time and time again.
---
Your Recently Viewed Recipes