A Delightful 'Mess' with Salmon, Broccoli and Rice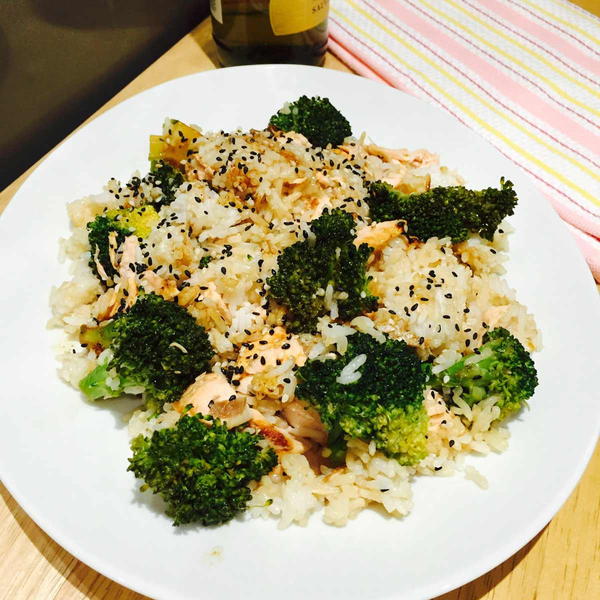 A Delightful Mess with Salmon Broccoli and Rice
"This dish combines the sweet with savoury and it is nutritious, delicious, yes, not the best looking out there but one of the best tasting for sure. For us it is the top favourite rice especially for a dish like this. Salmon is such a great fish, and her is another salmon dish that you will greatly enjoy and it is a similar kind of dish or try this beautiful salmon salad which is a true delight to the eye and tastebuds."
NotesOh yes, this is a mess! But undoubtely a nice and absolutely yummy mess! ?????? You only need to make it once and I promise, you get proper hooked to it! It's confort food, simple and very quick to make and very tasty.
Serves4
Ingredients
1 small broccoli head (organic)
400 g salmon fresh
350 g thai jasmine rice
3-5 tbsp Tamari sauce
3-5 tbsp soy sauce
1-2 tsp honey
1 tsp ginger (organic) fresh, grated
1 tsp Sesame oil
2 cloves garlic (optional)
1/2 stem lemon grass
Instructions
Wash thoroughly in their rise and set aside.

Wash the broccoli and split/cut into florets.

Cook the rice according to pack instructions as cooking instructions differ from rice to rice.

In a small bowl mix the sauces with the ginger, honey, garlic and the turmeric powder and the lemon grass (bruised and chopped into 1-2 cm long slices).

Meanwhile salt the salmon slightly and place the fillets in a pan. Cook (covered) over very low heat until cooked on both sides (about 10 min on each side) and then 2/3 of the mixed sauce. Cook for a further 5 minutes. Turn the fish on both sides so it cooks into the juice for about 2-3 min on each side. Switch off heat and let it cool.

In a separate pan cook the broccoli for a very short time covered 2-3 min by sprinkling few drops of water and the sesame oil. Add the remainder 1/3 of the sauce mix and cook for a further 1 min. Avoid picking up any lemon grass piece when cooking the broccoli.

Place the cooked rice in a large bowl or the serving dish, mix the fish which needs to be made into chunky flakes and this way you can check there are no bones left. Add the broccoli to the rice and mix again. Sprinkle any sauce left all over the rice but not before picking up the lemon grass from it. Sprinkle the sesame seeds, freshly grind some pepper and go for it!
Your Recently Viewed Recipes