Shakshuka, Egg Breakfast with a Twist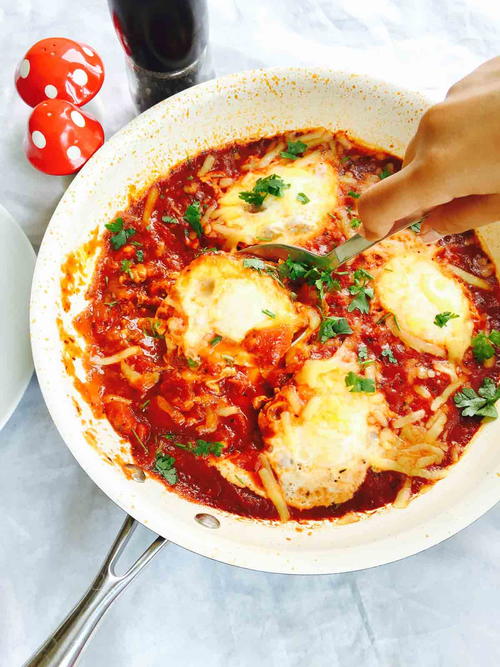 Shakshuka Egg Breakfast with a Twist
"This dish…. oh how I love a well prepared shakshuka, ever since the first time I've tried it years ago. Instantaneous love ? there was, I'm telling you. This is obviously a Mediterranean dish but I've added an exotic touch to it, which I find absolutely amazing. I think and hope you'll love it too! ? This eggs in this tomato sauce has to be my top 5 breakfasts ever. Having said that it made a great and perfect lunch or even a superb dinner meal, but just make sure you have that crispy bread along side. Yumm! ?"
NotesI don't normally put salt in because of the teriyaki and the soy sauce but if you are choosing not to use those add some salt of course. Cooking time varies a little because it really depends on how you would like your eggs. I normally like my eggs quite well done in this because it's a special taste according to my taste buds but you can choose to do your exquisite runny and barely cooked it's entirely up to you.

Serves4
Ingredients
1 can tomatoes (400g) chopped
300 ml passata
4 eggs
1 tsp soy sauce (sweet)
2 tbsp ketchup
1 tsp sriracha sauce
1/2 tsp Worchestershire sauce
1 tsp italian herbs (mixed)
1 pinch red chili flakes (optional)
1/2 tsp paprika powder
Instruction
Place a larger frying pan or a skillet over medium heat. Add the tomato sauces, the teriyaki, soy sauce, ketchup, sriracha or any other chili sauce along with the Worcestershire sauce.

Cook the tomato sauce until it starts to reduce slightly, I would say about 3-4 minutes.

Crack in the eggs one at the time the right on top of the tomato mixture. You may choose to make a little dent into the sauce if you wish but that's not really necessary. Make sure eggs are scattered around the skillet in such a way that there will be a bit of space between them. You might want to cover the pan and cook the eggs for about 10-12 until those are cooked to your liking. Make sure you do not reduce the sauce too much as it will start burning.

When the eggs are cooked exactly as you like, turn the heat off and garnish this dish with some chopped parsley and a handful of grated mozzarella cheese.
Your Recently Viewed Recipes