Better Than Cheesecake Factory Red Velvet Cheesecake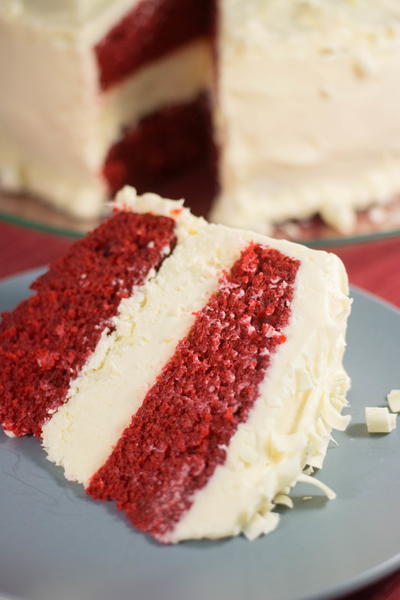 Better Than Cheesecake Factory Red Velvet Cheesecake
There's no need to settle for either fluffy homemade cake or creamy cheesecake when you can have both in one dessert. This Better Than Cheesecake Factory Red Velvet Cheesecake is sure to make a lasting impression. This triple layer cake looks stunning and tastes amazing. Its red velvet color makes it perfect for holiday parties, but let's face it; if you're like us, you crave red velvet cheesecake all year round. This delicious dessert copycat recipe has layers of fluffy red velvet cake made from scratch and a middle layer of lemon cheesecake. The light, fresh lemon flavor makes this cake unique and all the more delightful.
Ingredients
For the Cheesecake:
20 ounces cream cheese, room temperature

3

/

4

cup sugar

1

/

2

teaspoon very finely grated lemon peel

1

/

2

tablespoon fresh lemon juice

1

/

4

teaspoon salt
2 large eggs

1

/

2

cup sour cream
For the Red Velvet Cake:
2

1

/

2

cups cake flour
1

1

/

2

cup sugar
1 teaspoon baking soda
1 tablespoon baking cocoa
1 teaspoon salt
2 eggs
1

1

/

2

cup vegetable oil
1 cup buttermilk
1 ounce bottle red food coloring
1 teaspoon vanilla extract
1 teaspoon white vinegar
For the Frosting:
12 ounces cream cheese, room temperature
12 ounces butter, room temperature
1

1

/

2

teaspoon vanilla
3 cups powdered sugar
2 ounces white chocolate shaved from a bar for garnish (optional)
Instructions
For the Cheesecake:
Prepare one day ahead: Preheat oven to 325 degrees F. Place a round of parchment in the bottom of a 9-inch removable side cheesecake pan and wrap the outside of the pan securely in foil to come up the sides at least 1 inch. You will also need a 3-inch deep roasting pan and boiling water for the baking pan.

In an electric mixer, beat the cream cheese on medium high setting until smooth, scraping down the sides. With the machine running, add the sugar and beat 2 minutes until mixture is fluffy, then add the lemon zest and juice and the salt. Beat in the eggs one at a time, then the sour cream. Scrape down sides and beat only until completely smooth and incorporated.

Spoon mixture into the prepared pan and smooth the top with a rubber scraper. Set the pan into the roasting pan. Carefully pour boiling water into the roasting pan to come up to about 1 inch depth. Bake for 1 hour or until the center of the cheesecake no longer jiggles in the center.

Remove the pan from the oven and the roasting pan and cool 20 minutes on a wire rack, then run a knife around the edges to loosen it from the pan. Remove the outer ring and allow to continue to cool until room temperature.

Wrap the cheesecake tightly in double layers of plastic wrap and place into the freezer for several hours or overnight.
For the Red Velvet Cake:
Preheat oven to 350 degrees F. Line two 9-inch baking pans with parchment and spray lightly with cooking spray.

Combine flour sugar, baking soda, cocoa and salt in a large bowl and whisk to break up any lumps and lighten the mixture.

In an electric mixer on medium, beat eggs, oil, buttermilk, food coloring, vanilla and vinegar until well combined. Slowly add the dry ingredients and beat until completely smooth, about 2 minutes.

Measure equal amounts of the batter into the two prepared baking pans, smooth the tops and bake about 30 minutes until the cakes test done. Cool on a cooling rack for 5 minutes then invert onto a cooling rack, remove parchment, and continue to cool completely.

Prepare the frosting: In an electric mixer on medium high, beat cream cheese and butter with the vanilla until completely smooth. Slowly add the powdered sugar and beat until light and fluffy, about 5 minutes.
To Assemble:
Place one cake layer on a serving plate and smooth about 2 tablespoons frosting on top in a thin layer. Unwrap the frozen cheesecake and carefully center on top of the cake layer. If one layer is a bit bigger than the other, very carefully trim using a sharp knife and discarding all crumbs. Smooth 2 tablespoons of the frosting on top of the cheesecake in a thin layer and add the final cake layer, flat side up. Again check to see that the sides are equal size, trimming if necessary.

Use an offset frosting knife to cover the entire cake in a thin layer of frosting to seal in any crumbs. Chill for at least 20 minutes before proceeding.

Frost the sides and then the top with the remaining frosting. Use a vegetable peeler to make curls of white chocolate for the top garnish if using.

Store the cake in the refrigerator; bring it to cool room temperature about 30 minutes before slicing to serve.
Your Recently Viewed Recipes