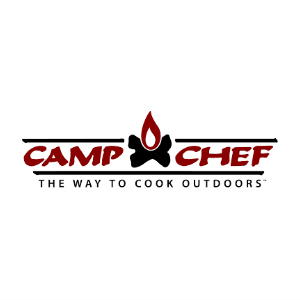 Great tasting food will always bring people together and Camp Chef has that figured out. As an industry leading manufacture for more than 20 years, Camp Chef produces high quality products offering efficient ways to cook for almost any outdoor gathering. From social functions to campouts or even dinner on the back patio, Camp Chef can do it all.

In 1990, Camp Chef was established on the idea that there just had to be a better way to cook outdoors. We recognized many campers and sportsman had an interest in outdoor cooking but were struggling with what cooking equipment was available to them. That is when he designed a stove that would meet the needs of the avid outdoorsman.

That simple stove design later became the Pro 60 and evolved to include the most versatile cooking system on the market by incorporating accessories to simplify and diversify any outdoor menu. BBQ boxes, flattop griddles, and pizza ovens now give users the ability to grill, griddle, bake, boil, brew fry, stream, and even cook Dutch oven - all on a single Camp Chef stove.

After being in the campsite for nearly 10 years, Camp Chef began producing quality cast iron cookware with its signature True-Seasoned Finish. Another 10 years later Camp Chef addressed the demand for a versatile outdoor cooking system at home. Today there are several stoves, smokers, fire pits and more, designed specifically with the home and patio in mind. However, the roots of the company are in the great outdoors, continuing to give people the opportunity to experience nature without sacrificing a hearty meal.

Camp Chef is located in the heart of Cache Valley, Utah, surrounded by the beautiful Bear River Mountain Range, a perfect site for product testing. Each product is a result of Camp Chef's dedication to outdoor cooking and its pledge to improve and create new products that fulfill the needs of its highly valued customers.
Camp Chef Reviews on AllFreeCopycatRecipes.com
Free recipes, giveaways, exclusive partner offers, and more straight to your inbox!
Your Recently Viewed Recipes

Something worth saving?
SAVE all your favorite recipes
ADD personal notes
QUICKLY reference your recipes