Spiralized Zucchini Pasta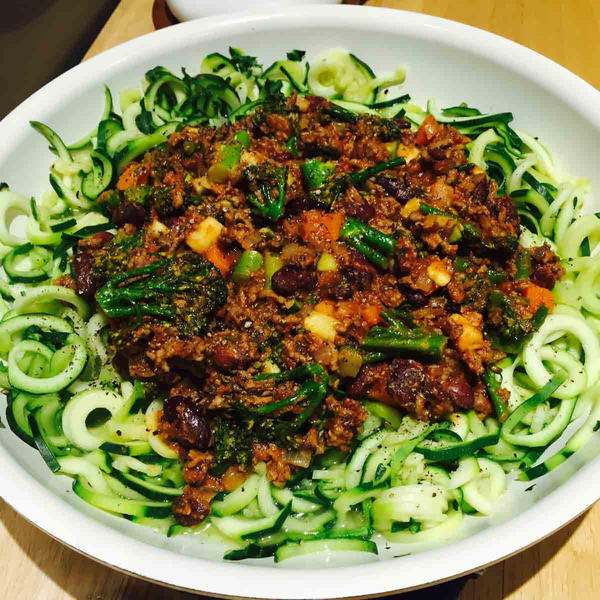 Spiralized Zucchini Pasta
"Pasta is probably one of the most comforting dishes at all times and whenever I decide on cooking and having pasta kids get very excited. This pasta dish comes with a little twist as it contains no real pasta making it a super super healthy 'pasta', guilt free since it's very low in carbs and it is gluten free. To spiralize the vegetables (potatoes, sweet potatoes, celery, carrots, beetroots, butternut squash and so on) I'm using a tool which makes my life a lot easier and that is a spiralizer obviously."
NotesInstead of courgette/zucchini you can use celeriac or squash, or a mix of courgette carrots and beetroot. It's delicious. If you haven't got a spiralizer you can use a peeler and make and use those shavings.
Serves4
Ingredients
4-5 courgettes (organic)
500 g mince beef 5% fat -10% max
1 can red kidney beans (organic)
250 g tenderstem broccoli (organic)
1 can tomato chopped (organic)
1 pinch cayenne pepper
1 carrot (organic)
1 pinch italian herbs mixed
2 cloves garlic (organic)
1 small onion chopped
Instruction
Wash and chop the ends of the courgettes, spiralize them and set aside.

In a deeper frying pan add the meat, salt, garlic finely chopped, the chopped onion and carrot, celery, paprika and the Italian mixed herbs. Cook for a good 10 min covered and toss occasionally then add the pepper and let it cook for a further 3 min.

Add the beans, the broccoli and the chopped tomatoes, cayenne pepper if you fancy and cook for a further 5 min. I like my broccoli really crunchy and barely cooked but if you wish your broccoli soft add it earlier on to cook or simply cook for longer. Switch off the heat and set aside.

Let's cook the 'pasta' now by placing a large pan on medium fire, you can add a bit of oil if you wish, I don't normally do that when using meat since this has its own fat but I do use olive or coconut oil whenever I make the vegetarian option. Cook for literally 3 minutes tossing it a couple of times. Again I like my courgettes crunchy and not very cooked but if you like them soft then obviously you need to cook them for longer.
Your Recently Viewed Recipes