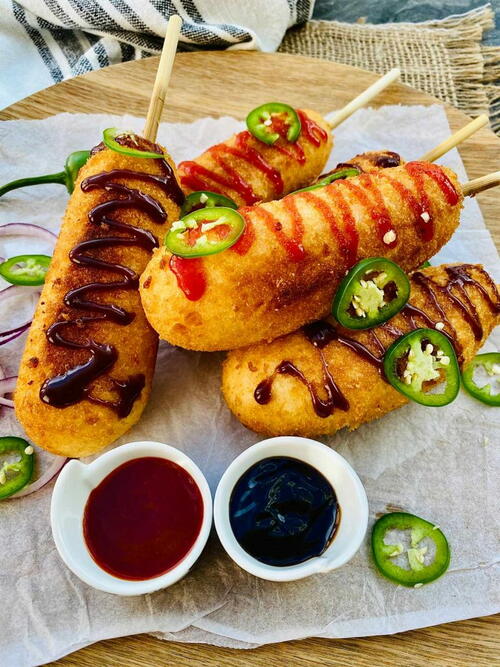 Korean Corn Dog Recipe
"The famous Korean Corn Dog Recipe has to be one of those recipes to try and make at home. What is Korean Corn Dog? Korean corn dogs are a popular street food that is sold in many countries but mainly in the US. They are usually made with corn, flour, sugar, salt and water. This recipe will teach you how to make Korean Corn Dogs at the comfort of your home so you can enjoy them anytime! Corn Dogs are a popular street food preferred by those people who want something sweet and savoury as a snack or even a main course like lunch but they are ideal for parties, kids love them."
Serves6
Ingredients
For the Batter:265g white spelt flour (2⅕ cups) all purpose flour will do as well
313 ml water ( 1¼ cups) needs to be lukewarm
3 tablespoons maple syrup sugar is good too
1½ teaspoon instant dry yeast (see notes for tips)
½ teaspoon Himalayan salt or kosher salt
Filling Ingredients:3 hotdogs cut into halves (to make 6 corn dogs)
6 sticks mozzarella cheese the same size as the hotdogs
For Coating:60 g panko breadcrumbs (1 cup)
Other Ingredients (Optional):1 tablespoon sriracha sauce for a nice kick
1 tablespoon ketchup to drizzle
1 tablespoon mustard to drizzle (optional)
1-2 tablespoon maple syrup sugar (optional)
2-4 cups oil for frying
1-2 small jalapenos to sprinkle over (optional)
To Make The Batter: 1. In a larger bowl, combine the spelt flour and the salt. Mix a little to homogenise although it is not that important.

In a mug, mix the lukewarm water, yeast and maple syrup or sugar. Mix well until the sugar and yeast have disolved.

Make a well in the middle of the flour mix and pour in the yeast mixture. Allow this to rest for a few minutes.

With the help of a wooden spoon or by hand, mix the mixture starting from the middle going outwards until a pretty wet and sticky dough has formed. Mix well and vigorously for approx 4 minutes until the batter becomes smooth and no lumps can be seen.

Cover the bowl with plastic wrap and let the dough rise until it doubles in size. Approximately 30 min at warm room temperature.

Once the dough is ready, place a deep pan with about 3-inch oil, on heat. Heat to approximately 160°C/315°F.

Prepare The Corn Dogs: 1. Skewer the mozzarella stick and the hotdog first on the one use wooden skewers. Chopsticks can also be used if you would like to.

Place panko on a plate and put aside until needed to roll and coat the corn dogs.

Place the flour on another plate. See recipe notes for extra tips.

Transfer the batter to a baking pan or in a large dish/plate.

Roll the skewered hotdog and mozzarella stick in the sticky batter until it wraps around nicely and uniformly.

Roll the corn dog in the panko to fully cover the dough all around and uniformly.

Fry the coated corn dogs in hot oil for about 5-6 minutes turning it in between once the bottom part turns brownish and looks cooked.

Remove the fried corn dog from the oil, dust with some sugar or drizzle with maple syrup, ketchup, sriracha, mustard, mayo, bbq sauce, whatever you like or wish. Make it your own by mixing all these toppings as you wish.
Your Recently Viewed Recipes