The Best Turkey Quesadilla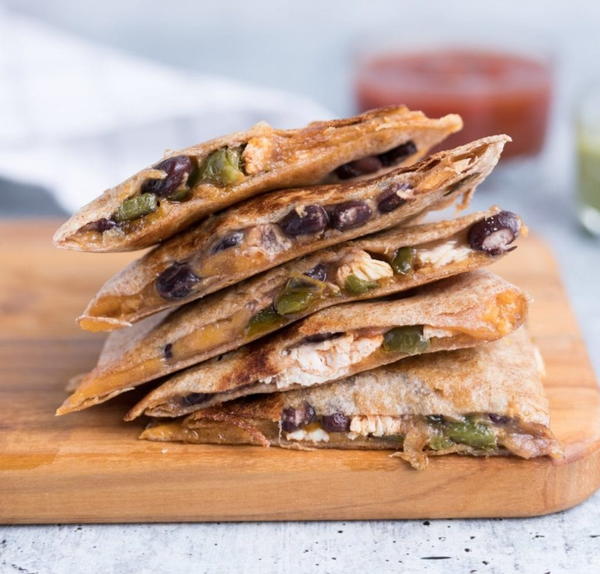 The Best Turkey Quesadilla
"Turkey is the ultimate American meat. So, why not use it in a quesadilla? Quesadillas are found to be older than the famous tacos and burritos. Quesadillas came from the northern and central parts of Mexico in the 16th century. This recipe uses a celebrated protein, which is turkey. This turkey quesadilla has flavorful meat, which is versatile in terms of flavor and can stand as a great ingredient in any cuisine. According to books and research, the literal meaning of Quesadilla is a "little cheesy thing." We always think about a strand of cheese oozing out the tortilla."
Serves4
Ingredients
1 tablespoon olive oil
1 ounce green bell peppers
1 ounce onion
18 ounces turkey breast
1 teaspoon smoked paprika (spices)
1 teaspoon ground cumin (spices)
1 teaspoon ground cumin (spices)
4 medium flour tortillas
2 cups shredded Monterey jack
2 cups shredded cheddar
Instructions
In a large skillet over medium-high heat, add olive oil.

Add chopped peppers and minced onion.

Cook until soft for 5 minutes. Set aside to cool.

Sauté chopped turkey breast.

Add stock, spices, and simmer for 15 minutes.

Season with salt and pepper. Set aside to cool.

Add 1 flour tortilla to skillet.

Sprinkle the cheese, turkey mixture, and pepper-onion mixture into the half portion of tortilla.

Fold the other half of the tortilla over and cook.

Cook each side for 3 minutes.

Repeat with the remaining ingredients.

Slice into wedges and serve with sour cream.
Your Recently Viewed Recipes