Copycat IKEA Swedish Meatballs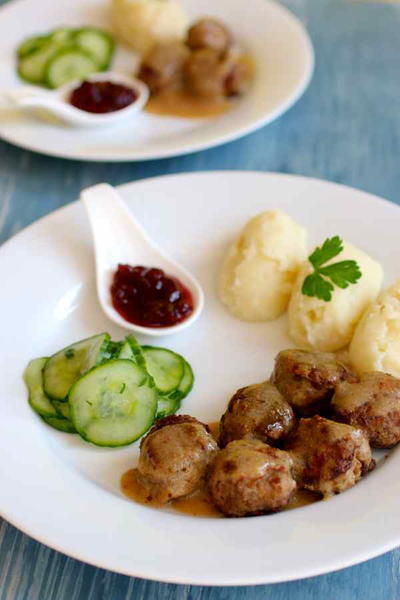 Copycat IKEA Swedish Meatballs
Copycat IKEA Swedish Meatballs taste just like the real thing found at the Swedish store. IKEA's meatballs are actually what the Swedes call Svenska Kottbullar, and they are perfect snack, appetizer, or main dish. The easy meatball recipe is made with ground beef and ground pork, giving them the perfect blend of flavor. The iconic sauce recipe is made with the leftover grease and additional beef broth. These meatballs can be made quickly and for a crowd. Bring them to your next potluck and you will be hounded for the recipe.
Yields25 Meatballs

Ingredients
4 tablespoons breadcrumbs
4 tablespoons milk

1

/

2

pound ground pork

1

/

2

pound ground beef
3 tablespoons grated onion
1 egg
4 whole allspice
2 tablespoons butter
1

1

/

4

cup beef stock
1 tablespoon soy sauce
3 tablespoons cornstarch

1

/

2

cup heavy cream
Instructions
Put the breadcrumbs in a large bowl and add 4 tablespoons of milk. Leave the breadcrumbs to absorb the milk for about 5 minutes.

Add the ground meat, grated onion, egg, allspice, salt, and white pepper to the bowl. Mix until everything is combined.

Take a tablespoon of the mixture and roll it until it is round. Rinse your hands in cold water if the mixture is too sticky. Repeat until you have used up all the mixture, by which time you should have between 25 and 30 meatballs.

Heat a tablespoon of butter in a frying pan over a medium high heat.

Fry half the meatballs, shaking the pan frequently as you add them.

When they are browned, turn down the heat and cook for 10 more minutes.

Remove the meatballs from the pan and keep warm.

Add another tablespoon of butter and fry the remaining meatballs in the same way.

When the meatballs are cooked, remove them from the pan.

Add the stock and cornstarch mixture to the pan.

Stir thoroughly and then simmer for 5 minutes.

Add the soy sauce, salt, black pepper, and cream. Heat for a couple more minutes, stirring continuously.

Serve the meatballs with lingonberries or lingonberry jam, mashed potatoes, pressed cucumber, and a light coating of the creamy gravy sauce.
Your Recently Viewed Recipes