Taco Bell Crunchwrap Supreme Copycat Recipe
Learn how to make the famous Taco Bell Crunchwrap Supreme in your own kitchen!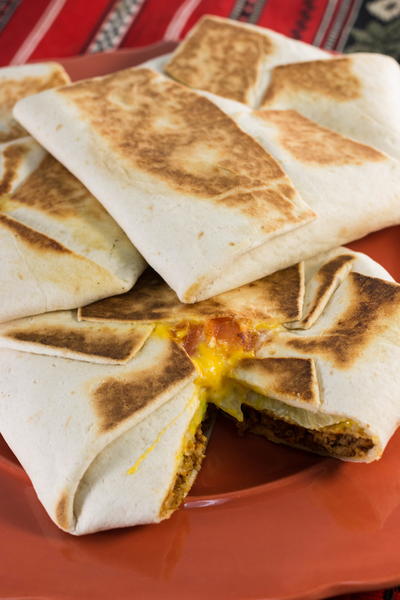 Copycat Taco Bell Crunchwrap
This Taco Bell Crunchwrap Supreme Copycat Recipe tastes just like the original from Taco Bell! If you've never tried a crunchwrap, then you have no idea what you're missing. Better yet, with Taco Bell recipes like this, you can just make this magical, iconic Taco Bell menu item in your own kitchen.

Making your crunch wrap at home guarantees a flavor better than the restaurant's. You can personalize the ingredients to fit your diet and personal tastes, too! Copycat recipes like this are great for making a memorable meal at home. Your family will start wondering why you haven't made this recipe sooner.

Regardless of your local Taco Bell's hours, you can have a Crunchwrap whenever you crave. Is it late at night and you've got the munchies? Get out your ingredients and make a few Crunchwraps for all your friends. No matter the occasion, this Taco Bell Crunchwrap Supreme Copycat is sure to be a hit.

Plus: If you're feeling adventurous after 11:00 am, and you're still craving that A.M. Crunchwrap, this recipe could easily be adjusted to the breakfast version!

Ingredients
1 pound ground turkey
2 tablespoons vegetable oil
1 teaspoon kosher salt
1 tablespoon chili powder
2 teaspoons ground cumin
2 tablespoons Tabasco Chipotle sauce
2 tablespoons tomato paste
2 tablespoons water
1 can nacho cheese sauce
6 large burrito-size flour tortillas
6 tostada shells
1 cup sour cream
2 cups shredded lettuce
1 cup chopped tomatoes
1 cup Mexican blend cheese
cooking spray
Instructions
Whisk together the Tabasco, tomato paste, and water.

Combine the chili powder and cumin.

Heat the oil in a skillet and add the turkey. Sprinkle the turkey with salt. Cook until the turkey is no longer pink.

Add the chili powder and cumin, mix well. Add the Tabasco mixture and cook 2 to 3 minutes.

Place 1 tortilla on a flat surface. Sprinkle on a little shredded cheese, cover with ½ cup turkey meat, next nacho sauce, tostada, sour cream, lettuce, tomatoes, and a little more shredded cheese.

Fold the crunchwrap by starting to fold the edge up towards the center and keep folding until all the fillings are covered.

Spray a skillet with cooking spray.

Carefully place the crunchwrap seam side down and cook 2 to 3 minutes until golden.

Flip the crunchwrap over and cook 2 to 3 minutes more on the other side.
Your Recently Viewed Recipes