Brown and Green Lentils with Portobello Mushrooms, Wasabi Rocket and Watercress Hearty Salad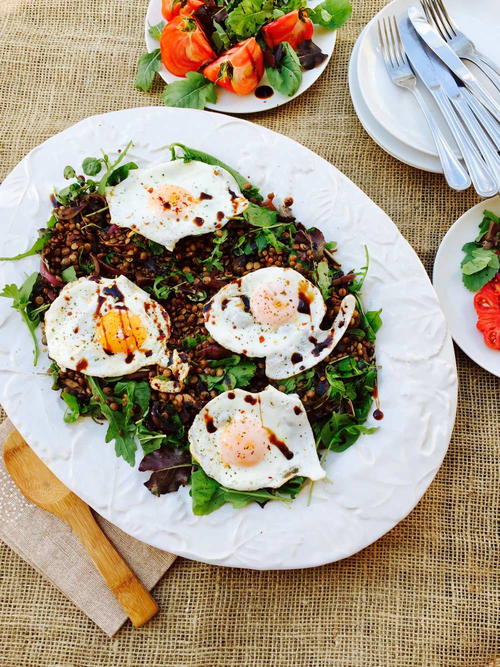 Brown and Green Lentils with Portobello Mushrooms Wasabi Rocket and Watercress Hearty Salad
"I did not only have to deliver, but deliver rather fast! :-)) This dish in the end was nowhere near that bland food category and you will soon see this, how and why. The nutty taste of the lentil with the creaminess and awesomeness of the soft pan cooked egg it's a wonderful combo not to mention about the fresh peppery salad mix which was quite a mix and gave the dish such a powerful stand out taste as well as looks ?."
NotesMushrooms, in general, can release quite a bit of water when they are cooked.
If you happen to have one of those salad spinners you could use to spin the mushrooms once sliced to take all the excess water out.
Don't worry if you don't have one just let them dry for a few minutes.
Also one secret when cooking the mushrooms is that that they don't release a lot of water is to cook them on a higher heat (uncovered) and not to add the salt until towards the end of the cooking.
Serves4
Ingredients
300 g portobello mushrooms
150 g green lentils
75 g brown lentils
1 red onion shredded
4 eggs
1/2 tsp salt
1 pinch of red chilli fakes
3 beef tomatoes cut into chunks
1 tbsp Indonesian sweet soya sauce
80 ml balsamic vinegar
Start by rinsing the lentils (mix them) and put them in a cooking pot. Add the right amount of water. Cook them for about 20-25 min or whatever the packet instructions say. (See Recipe Notes)

Meanwhile wash the salad. Wash the mushrooms and cut them lengthways into slices. Shred the onion as well.

Place a pan on high heat and add the sliced mushrooms. Allow them to start sizzling and add just a tiny little drizzle of sesame oil 1/2 tbsp. They will soon release some water. Cook uncovered for 4-5 min tossing occasionally.

Add the shredded onion and cook for a further 2 min tossing occasionally. Remove any water (if any) before adding the onions and drizzle a little extra sesame oil to try and caramelise the onions and mushrooms. Just before turning the heat off drizzle the soya sauce in and cook for one more minute.

Lentils should be almost ready by now so when ready, turn heat off, remove the lid, remove any leftover water, allow to cool for a few minutes and add the balsamic vinegar. Simply pour over the lentils and mix.

Cook the eggs in a pan with a little drizzle of sesame or olive oil.

Take a serving plate or dish out and get the salad put together by mixing the mushrooms with the lentils. In go the salad leaves. Give those a good shuffle. Top your salad with the soft cooked eggs and a drizzle of the sweet sticky balsamic and here you have it. Lovely stuff.
Your Recently Viewed Recipes