Easy Stuffed Chicken Galantine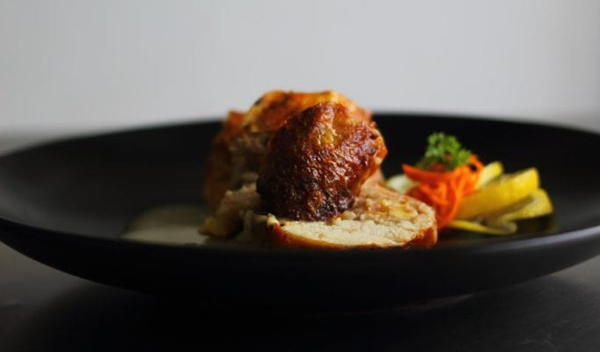 Easy Stuffed Chicken Galantine
"Chicken galantine is a French dish of de-boned stuffed meat. Galantine can be made poultry or fish and is poached or roasted in the oven to develop a rich umami flavor. Typically, galantines were poached, served cold, and coated with aspic. Aspic is a savory jelly made with meat stock, and that contain pieces of meat, seafood, or eggs. The filling usually has carrots, green beans, ham, and pistachios. When this dish is sliced, you have a beautiful presentation with specks of colorful veggies dotting the center of each slice."
NotesDeboning a whole chicken might be tricky foe some. If you don't want to debone a whole chicken, then you can cook the chicken until tender, then the bones are easier to remove. Then do a layer of pulled chicken under a layer of stuffing.
Serves8
Ingredients
2 pounds Chicken Breast
8 ounces finely diced smoked ham
1 ounce chopped red bell pepper
1 ounce chopped yellow bell pepper
8 ounces ground pork
8 ounces ground chicken
2 large eggs
1 teaspoon salt
1 teaspoon pepper
1 teaspoon cumin
Instructions
Preheat the oven to 325°F.

Combine all ingredients except for the chicken breast, butter, rosemary in a large bowl. Set aside.

Combine butter and chopped rosemary.

Brush the aluminum foil with herbed butter.

Lay the chicken breast in in the aluminum foil, skin side down.

Spread the chicken-pork mixture on top.

Roll the chicken into a long log.

Use the aluminum foil to secure the seams.

Bake the chicken for 30 minutes.

Gently remove the aluminum foil from the chicken galantine.

And return the chicken to the oven to roast for another 15 minutes.
Your Recently Viewed Recipes