24 Copycat Church Supper Recipes
Shhhh, don't tell anyone - these church supper recipes are actually from some of your favorite restaurants!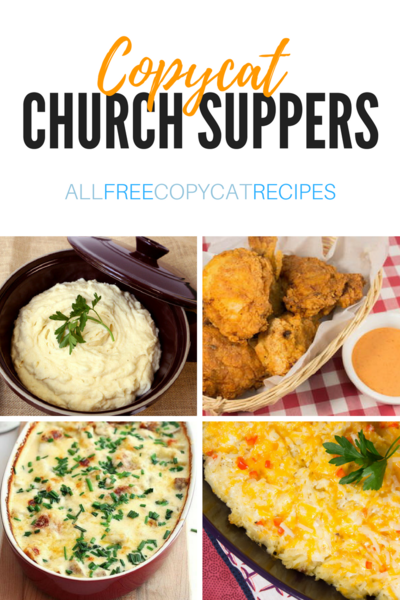 Sunday is a special day of the week. After attending church, isn't it nice to settle in for a delicious dinner? Below are some of our favorite easy, homestyle meals perfect for your next church supper or potluck. You'll be set for the whole year!

Rain or shine, you'll want to cook these easy main dish recipes with your family and pass on special Sunday traditions from generation to generation. If you love filling food that makes everyone happy, you'll love this collection of 24 Copycat Church Supper Recipes.

Gather everyone you know and cook them up something special, like copycat KFC recipes or cherished copycat Cracker Barrel favorites. If you prefer to eat at home rather than go out on a Sunday night after church, you can save yourself the trip and cook up restaurant-style food in your very own kitchen.

Get started with this awesome video on how to make a Copycat Cracker Barrel Meatloaf!

Sign Up for More Free Copycat Recipes

 
Table of Contents
Church Supper Casserole Recipes
These casserole recipes would make even your Southern grandma proud. Any one of these copycat casseroles would make for a perfect church supper offering. After all, there is nothing better than a casserole when you are pressed for time but still want to make something impressive. If you are looking for the ultimate church supper recipe, then these copycat dishes are just what you need.
Church Supper Side Dish Recipes
Here you will find side dish recipes that your church family is sure to love. If you are looking for side dishes like mac and cheese, mashed potatoes, and egg salad, you're in the right place.

These scrumptious sides don't require much prep time, so even the most last-minute cooks can still work a little culinary magic in the kitchen. Each of these recipes for side dishes taste just like the restaurant versions of your favorite menu items.
Church Supper Main Dish Recipes
If you have ever been to a church supper, then you are probably aware that the group size tends to get a bit large. These main dish copycats are great go-to recipes for big crowd sizes.

If you're looking for a wonderful dish that is sure to stand out from the rest, you've got to check out our selection below. When your next church supper rolls around, you'll be prepared with the dish that will have everybody talking.
Your Recently Viewed Recipes