How to Make Restaurant Style Ranch Dressing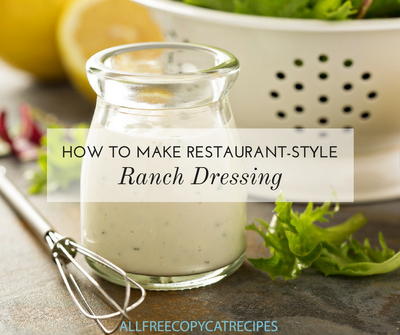 Ranch dressing is probably the most beloved salad dressings out there. Whether you put it on your salads, drizzle it on a sandwich, or use it as a dipping sauce, you know it's going to be delicious. But ranch dressing doesn't always taste exactly the same.

The original recipe was developed in the 1950s by a man named Steve Henson, an Alaskan plumber and rancher. And since then, the dressing has exploded in popularity! Various flavors and brands have popped up, showing the sauce's versatility, but some say that ranch dressing that's served in restaurants tastes better for some reason.

Is there any truth to that? Well, it's hard to say. Most restaurants keep their actual recipes for homemade ranch dressing under wraps, but one thing is for certain -- if you make your dressing yourself, it will pretty much always taste better than store-bought.



Table of Contents
The Parts of Ranch Dressing
1. The Base
The base of your ranch dressing is probably going to be buttermilk, sour cream, or mayonnaise, although ranch dressing made with Greek yogurt is also very popular. The base that you choose for the dressing can affect how thick or thin your dressing is.

2. The Thinning Agent
Depending on the base that you use, you may need a thinning agent. If you're using buttermilk, your dressing will already be about the right consistency. If you do need to thin out your dressing, we recommend using just a splash of white wine vinegar or lemon juice. Anything that has acidity will work well for this, but those are the most popular thinning agents.

3. The Seasonings
While recipes for homemade ranch dressing might vary, here are the most common seasonings that make ranch dressing taste so great:
Fresh Dill
Garlic
Chives
Oregano
Paprika
Parsley
Ingredients for Homemade Ranch Dressing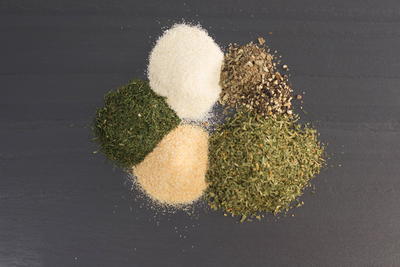 1 cup mayonnaise
1 cup buttermilk
1 tsp white wine vinegar
1 tbsp dried parsley
1 tbsp fresh dill
2 tsp dried chives
1 1/2 tsp onion powder (or more to taste)
1 1/2 tsp garlic powder (or more to taste)
1 tsp oregano (or more to taste)
A dash of paprika
A dash of ground mustard seed
Ground black pepper to taste
How to Make Restaurant Style Ranch Dressing
Step 1:
In a bowl, combine the mayonnaise and buttermilk. Add the white wine vinegar to achieve the texture you want.

Step 2:
Add the dried parsley, fresh dill, dried chives, and onion powder to the base of your dressing.

Step 3:
Add the remaining ingredients in small increments, tasting every now and then to make sure the flavor isn't too strong.

Step 4:
If the seasoning is too strong, continue to add more buttermilk to your mixture until you get the desired flavor. The paprika and ground mustard seed will add a little bit of spice to your ranch dressing, so if you do not prefer your dressing this way, simply leave these out; it will still taste like ranch dressing.

Step 5:
Store the dressing in a sealed glass jar.
More Ranch Dressing Recipes
What's your favorite type of dressing?
Let us know in the comments!
Your Recently Viewed Recipes