Gemelli Primavera with Shrimp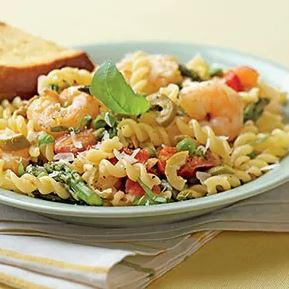 Gemelli Primavera with Shrimp
This dish is a delicious mix of veggies, cheese, and shellfish served over gemelli pasta. If you like this meal at Panera, you're going to like it even more when it's cooked in the comfort of your own home. You can use frozen shrimp for this recipe, just be sure to thaw it before use. Using frozen shrimp won't affect the flavor much and it is less expensive than a pound of fresh shrimp may be. Saving the pasta water and adding it back into the meal ensures you a creamy and delicious end product. Garnish with a bit of basil and Parmesan to finish the meal after splitting between plates. 
Ingredients
12 ounces dried gemelli
1/3 cup extra virgin olive oil
8 ounces thin asparagus spears, cut into 1-inch lengths on a diagonal
3/4 cup fresh or frozen peas
2 scallions, thinly sliced on a diagonal
2 cloves garlic, minced
1 pound medium shrimp, peeled and deveined, thawed if frozen
1/2 teaspoon salt
1/4 teaspoon ground black pepper
Zest and juice of 1/2 lemon
1/3 cup Parmesan cheese, plus extra for garnish
4 ounces grape tomatoes, halved lengthwise
1/3 cup pitted green olives, coarsely chopped
1/4 cup chopped fresh basil
1/2 loaf Panera Bread Three Cheese Bread, sliced and toasted
Instructions
Bring a large pot of salted water to a boil. Add pasta and cook until tender yet chewy, 6 to 8 minutes.

Meanwhile, heat 1 tablespoon of oil in large, deep skillet over medium heat. Add asparagus, peas, scallions, and garlic, and cook 1 minute.

Season shrimp with salt and pepper and add to pan along with lemon zest and juice. Cook until bright pink, 2 minutes.

Drain pasta, reserving 3/4 cup pasta water. Add pasta and pasta water to pan along with Parmesan, stirring until creamy. Stir in tomatoes, olives, and 2 tablespoons of basil.

Divide among plates and garnish with remaining 2 tablespoons basil and Parmesan. Serve with toasted Panera Bread Three Cheese Bread.
Your Recently Viewed Recipes