Baked Eggplant with Tomato Sauce and Cheese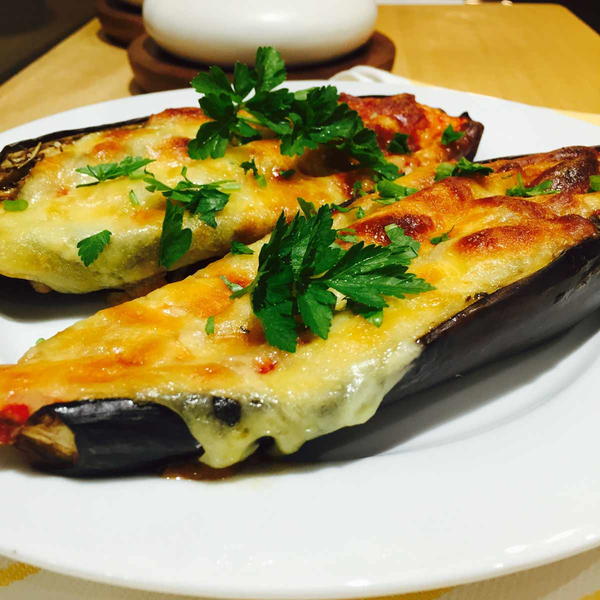 Baked Eggplant with Tomato Sauce and Cheese
"When it comes to midweek dinners, I like to think of quick options, something that is filling and sometimes meat free since we have agreed in my household, including the kiddos (it was a little harder and more persuading work with Mr?) that we have 3 nights a week vegetarian, 2 meat, and 2 nights fish as part of a balanced eating. So, here is an option of a vegetarian dish that could well do on its own and would need no meat, I feel that in this dish the cheese just fulfills that entirely."
NotesIf you wish to have this with meat, I'd scrap the cheese. Lamb would be the best meat option but that is entirely my taste, which doesn't necessarily coincides with yours. It is just a suggestion. Feel free to sprinkle some bacon in the tomato sauce for example.


Serves4

Ingredients
4 aubergines
200 g cheese grated, mixed
300 ml tomato juice (or chopped, or passata)
1 tsp italian herbs (mixed dry) or fresh basil
1 clove garlic
1 tbsp olive oil
salt
pepper
parsley
cayenne pepper (optional)
Instructions
Wash and cut lengthwise the aubergines. With a knife groove them on the inside lengthwise (3-4 grooves) and across (6-7 grooves) forming some little squares. Sprinkle some salt and set aside for about 20 minutes.

To make your own tomato sauce, take a cooking pan, place on medium heat put the olive oil, when is fairly hot add the garlic cook for 30 seconds and then add the tomato sauce, the dry herbs a pinch of salt and pepper to taste and let it simmer for 10 min or so on medium-low fire. When finished set aside.

The aubergines have been resting for a while and they would have collected some juice by now so squeeze all the juice out and place them in the baking tray sprinkle little olive oil all over and place them in the preheated oven at 180 C for 20-25 min.

Take the aubergines out of the oven and with the help of a spoon, spoon over and in the crevices plenty of tomato sauce. (3-5 spoonful depending on the size of your aubergines). Do not add any salt any longer as the flesh of the aubergines already have salt in and so does the tomato sauce. The cheese would also have its own salt.

Sprinkle some fresh basil leaves and the cheese. Place back in the oven and bake for another 15 min or so until the top is nice and golden.
Your Recently Viewed Recipes