Cavolo Nero and Kale Sea Bass Stir Fry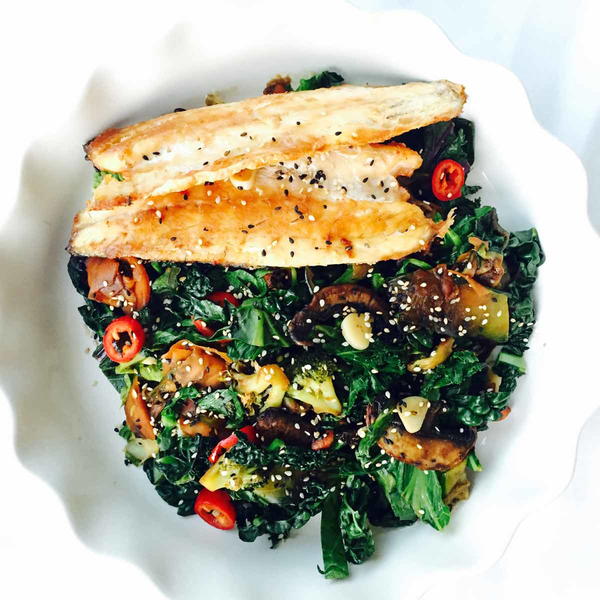 Cavolo Nero and Kale Sea Bass Stir Fry
"This cavolo nero and kale sea bass stir fry is yet another quick recipe to prepare (ideally for week time) when we tend to have a lot less time to cook. A nutritious recipe is always welcome, especially when this can be cooked in a flash. I know I put a lot of emphasis on the time it takes us for all this cooking but don't you guys feel the same, you want to cook something to be super healthy, (okay, I agree, not all the time but most times), something to look and taste super good, and to be on the table in a flash! For me this is the ideal outcome. It is super cool to be able to do all this homecooking and to tick all those boxes."
NotesThe sea bass of course can be replaced with any fish that you may like and fancy, but also that you just happen to have in the fridge or freezer.

The same with the greens, those can be replaced with seasonal stuff like pak choi, cabbage, chard and so on.


Serves4
Ingredients
250 g kale
200 g Cavolo Nero
4 fillets sea bass
1 tbsp coconut oil
2 courgette shavings
1 pepper (red or orange)
5-6 mushrooms (chestnut type)
1 head broccoli (florets)
1-2 chili (red type)
2 carrot shavings
Instruction
Wash and shred (if not already shredded) the kale and Cavolo Nero. Set aside.

In a deep frying pan or an oak, placed on medium fire, put in half of the coconut oil. Add the shredded kale and Cavolo Nero, broccoli florets and cook for 1 min. Add the sliced mushrooms, sliced red/orange pepper, the carrot and courgettes shavings. Cook for another 6-7 minutes tossing a couple of times. Add the garlic some soy sauce and the Hoisin sauce. Allow to cook for a further 1-2 minutes Turn heat off whenever ready.

Meanwhile, in a pan, set on medium fire, put in the remaining coconut oil and place the fish fillets, sprinkle some soy sauce or a little salt and pepper and cook on both sides for 4-6 min on each side depending on size and thickness of the filet.

When ready, prepare the plates and serve with a sprinkle of mixed sesame seeds and of course some red chili or some sweet chili sauce if you fancy.
Your Recently Viewed Recipes