Salmon and Crudités Salad with Coconut Blossom Nectar and Umami Salt Vinaigrette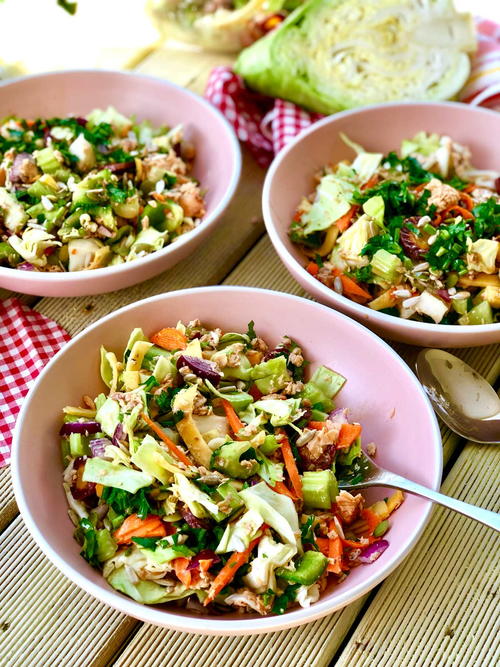 Salmon and Crudits Salad with Coconut Blossom Nectar and Umami Salt Vinaigrette
"This salmon and crudites salad is definitely my type of food. I could have this all day every day. It is a nice, healthy, refreshing, gluten free and low carbs. Feel very free, just like I do to juggle with the ingredients choosing between your favurite proteins, fish, chicken, turkey, or beef. A vegan version is absolutely easy to make by replacing the proteins with tofu, beans or mushrooms. This salad is an explosion of superb flavours containing raw vegetables and a beautiful vinaigrette made with coconut blossom syrup, umami salt, cider vinegar plus fresh herbs and homemade mayo. Refreshing and so delicious!"
NotesI always have a blend of quite a few types of seeds and nuts available.
Nice and handy. The mix I usually have is made of walnuts, chopped almonds, sunflower seeds pumpkin seeds and hemps.
I roast a couple of handfuls of those and store them in a jar. They never last for more than a few days as I sprinkle them on almost everything. A tablespoon or two go in every single dish including creamy soups or breakfasts.
Serves4
Ingredients
426 g salmon 2 tins x 213g I used pink wild canned salmon
3 celery sticks organic
2 red onions organic
1/2 cabbage organic
100 g Swede
1 carrot medium
1 purple carrot
4-5 tbsp Parsley
4 tbsp mixed seeds * toasted
Vinaigrette:2 tbsp oil I used walnut oil
Instruction
Open the salmon tins and add to a large bowl. Keep the juices too.

Peel onions, wash all the vegetables and chop or cut as you wish and feel like. I diced, chopped, cut julienne and spiralised, so, get adventurous! Add all these to the fish. Give it all a good mix.

Prepare the vinaigrette by putting all the vinaigrette ingredients into a jar, including couple of spoonfuls of finely chopped parsley. Place the lead and give it a good energetic shake and a shimmer. Add this to the salad and mix again.

Sprinkle some toasted mixed nuts and seeds, a little more parsley and serve. Enjoy!
Your Recently Viewed Recipes