Squid Curry with Turmeric Rice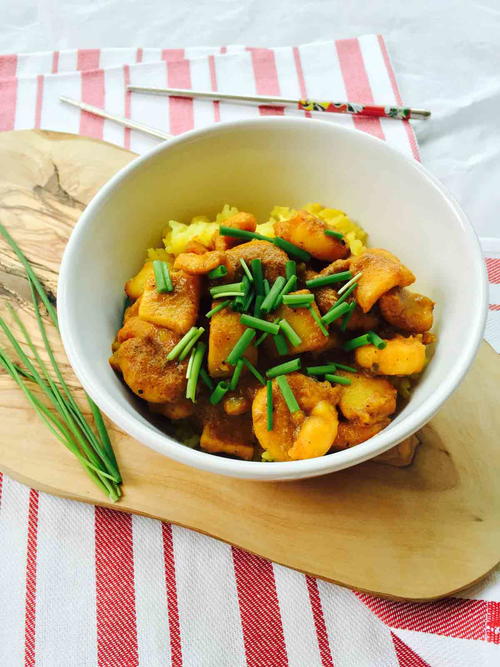 Squid Curry with Turmeric Rice
"This squid curry with turmeric rice is delicious, delicious, delicious! I go crazy on curries and I haven't managed to post many curry recipes simply because I'm overwhelmed with so many recipes that I love and I'm struggling with which one to put first along with the lack of time but I really need to get going on many, many curry recipes as I have had quite a few demands recently so….., they are coming folks! I promise! Slowly but very surely??"
Serves4
Ingredients
For the curry:800 g squid tubes (cleaned)
5-6 shallots (sliced julienne)
1 tbsp fish curry powder
1/2 tbsp hor curry powder (or more, for extra spiciness)
1 tsp coriander powder
1 tsp seeds (mixed: cummin, fennel)
1/3 tsp garam masala
1/4 tsp ginger (fresh, grated)
2 cloves garlic (finely chopped)
4 tbsp coconut milk
Instruction
Cook the rice according to package instructions. Add the turmeric and the butter right at the beginning of cooking.

Wash and chop the squid. Set aside for 5-10 min to make sure the water drains completely then cut them as you wish into chunks or rings. For some reason in a curry I like squid cut into pieces/chunks rather than rings. Sprinkle some salt, pepper and all the powders (chilli, coriander, turmeric, garam masala, half of the garlic), mix well until all nicely coated and set aside for few minutes.

Meanwhile, place a deeper pan over medium heat, add the coconut oil and the chopped shallots with the chopped green chilli, the curry leaves ? and the seeds. Cook for 2 minutes. Sprinkle some coconut milk if it begins to sizzle. (This is because I don't like frying, but you could caramelize the shallots if you like.)

Add half of the grated ginger (if you like and choose to use - I love ginger in almost everything so I put a little here too ?) and half of the grated or finely chopped garlic. Cook for 1 minute, stirring a couple of times. Oh..., the smell!! Bring it on!

Immediately after, put in the the tomato paste, the marinated squid, coconut milk and cook for about 10 minutes, covered.

Turn the heat off and it's ready!

Serve the freshly cooked side dish and sprinkle some coriander or freshly chopped chives over with a squeeze of fresh lemon.
Your Recently Viewed Recipes