'Mad Men' Recipe for Caesar Salad from Keens Steakhouse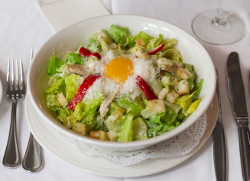 'Mad Men' Recipe for Caesar Salad from Keens Steakhouse - Photo courtesy of Keens Steakhouse
If you're in search of a restaurant-quality caesar salad recipe, try this 'Mad Men' Recipe for Caesar Salad from Keens Steakhouse in New York City. This salad was featured on the AMC hit show, and it's tasty in real life!
Notes

Salad Notes:

At Keens the waiters dress the salad and add the garnishes tableside.The recipe makes one large salad portion. You'll have leftover dressing and croutons.



Executive Chef Bill Rodgers also recommends using this delicious salad dressing for marinating grilled chicken.

Caesar Croutons Notes:

Place the bread in the freezer for 10 to 15 minutes before slicing to make it easier to cut even squares.



Whole melted butter can be substituted for the clarified butter, but will brown the croutons faster.

To make clarified butter, melt 4 tablespoons of butter slowly in a small saucepan. Remove from heat and allow to cool a bit until it separates. Skim off the foam that rises to the top, and gently pour the butter off of the milk solids, which will have settled to the bottom.

Recipe Note: This recipe is used by permission from The Unofficial Mad Men Cookbook: Inside the Kitchens, Bars, and Restaurants of Mad Men by Judy Gelman and Peter Zheutlin (Smart Pop, 2011).
Yields1 large salad (serves 1 to 2)
Ingredients
Salad:
3

1

/

2

cups romaine lettuce, cleaned, cut
2 ounces Caesar Dressing (see recipe)
Topping:

1

/

4

cup Parmigiano-Reggiano cheese, finely grated
Garnish:
1 raw egg yolk
4 thin slices pimiento
2 anchovy filets, cut in half (4 pieces)
Caesar Croutons (see recipe)
Caesar Dressing:
1

1

/

2

ounce water
1 ounce lemon juice

3

/

4

cup canola oil

3

/

4

cup pure olive oil
1

1

/

2

ounce red wine vinegar
1 egg yolk
6 garlic cloves, peeled
10 Italian anchovy filets
2

2

/

3

tablespoons Parmigiano-Reggiano cheese, finely grated

1

/

2

teaspoon salt

1

/

2

teaspoon black pepper, ground
1 teaspoon light brown sugar

3

/

4

tablespoon dry mustard

3

/

4

tablespoon Worcestershire sauce
Caesar Croutons:
6 slices white bread, crusts removed and cut into 1/4-inch squares
2 tablespoons clarified butter, melted
1 teaspoon fresh herbs (rosemary, parsley, and thyme), chopped

1

/

8

teaspoon kosher salt
Instructions
Place lettuce in a serving bowl. Toss with dressing.

Sprinkle Parmigiano-Reggiano on top, garnish with egg yolk, pimiento, anchovy filets, and croutons and toss well.

Combine the water and lemon juice in a measuring cup and set aside.

Combine canola and olive oils in a measuring cup and set aside.

In the blender, combine the remaining ingredients and mix for 10 seconds. With the blender running, slowly begin to add the combined oils in a slow and steady stream. As you continue to add the oil, the mixture will begin to thicken. When the mixture thickens, thin it out with of the water/lemon juice mixture. Repeat this process until all the oil has been incorporated.

Chill dressing until cold. (Yields 2 1/2 Cups Dressing)

Preheat the oven to 350F. Toss bread cubes in a bowl with the remaining ingredients.

Transfer to a baking sheet and bake for 10 minutes or just until slightly browned and crisp. Let cool at room temperature before serving. Store covered in an airtight container. (Croutons for 6 large salads)
Your Recently Viewed Recipes