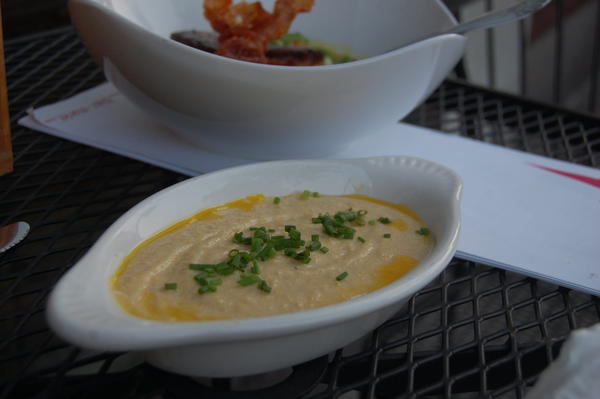 Easy Recipe For Polenta
"For many people, rice and potatoes are the go to starches. But, Polenta makes a great starch for a meal. This creamy recipe will make a nice side dish for our Beef Roast in Pinot Noir recipe. But, you can treat Polenta as a main dish. Just add herbs of your choice and a bit more cheese. Polenta pairs well with most whites, both the more common whites as well as aromatic whites work well. Look at this list below. Common whites Chardonnay Sauvignon Blanc Pinot Grigio Riesling Aromatic Whites Viognier Roussanne Marsanne Torrontes Albarino"
Serves6
Ingredients
5 cups water
1 teaspoon salt
1 cup cornmeal; coarse−grain
3 tablespoons butter
1 cup Parmigiano-Reggiano cheese
Instructions
Bring the water to a boil in a large heavy pot.

Add the salt and reduce the heat until water is just simmering.

Pour the cornmeal in a thin stream into the water while constantly stirring. To avoid lumps, stir quickly with a whisk while adding cornmeal. If you notice clumps, stop adding cornmeal from time to time and beat the mixture vigorously.

Cook, stirring regularly for 20 to 30 minutes. The Polenta will become very thick while cooking. It is done when it comes away cleanly from the sides of the pot.

Turn off the heat and add the butter and cheese. Stir until combined.
Your Recently Viewed Recipes