Seafood Salad With Crab And Lobster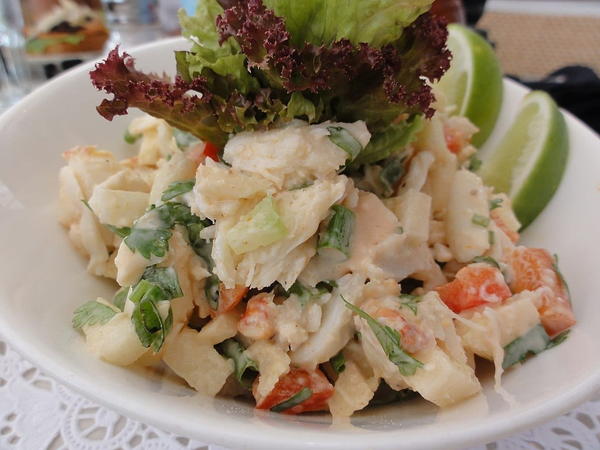 Seafood Salad With Crab And Lobster
"If you're looking for a light dish to serve at a party, this is a good one. This would also be great at a summer garden party. The recipe as written calls for Rosemary and Thyme, but you can substitute other herbs that you like better. Parsley and dill would also be nice in this dish. Try pairing this dish with a lovely rosé. Either a bolder or a lighter rosé would be great here. *A light Provencal rosé *A medium rosé of Merlot *A heavy resé of Grenache "
Serves6
Ingredients
3 cups orange juice concentrate
1 cup white wine vinegar
1 tablespoon mayonnaise
1 cup olive oil
1 sprig fresh thyme
1 sprig fresh rosemary
salt and pepper to taste
1 cup lobster
8 ounces small shrimp
12 ounces lump crabmeat
Instructions
Chop the fresh herbs very finely.

Mix the orange juice, olive oil, vinegar, water, herbs and salt and pepper together. Refrigerate until ready to use.

Remove the lobster, shrimp, and crab from the shell.

Roughly chop the crab meat and lobster.

Dice the grapefruit, mango, avocado, pineapples, and tomato.

Add the dressing and toss until the ingredients are coated.

Plate and garnish with a few lettuce leaves and lime wedges.
Your Recently Viewed Recipes