Waffle, Quail Eggs, Bacon and Maple Syrup Lush Breakfast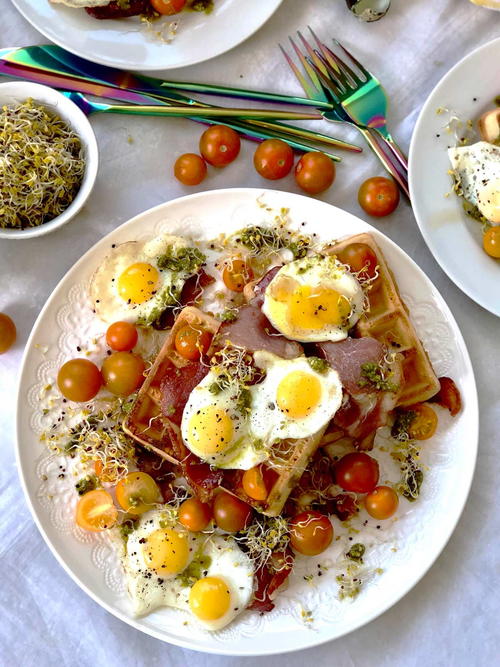 Waffle Quail Eggs Bacon and Maple Syrup Lush Breakfast
"This waffle, quail eggs, bacon and maple syrup breakfast was lush indeed, it was one of the best enjoyed breakfasts we've had in a long time, agreed and certified by hubby and kids. We don't have breakfasts like this often but when we do, it must be thoroughly enjoyed. The combination of colours, textures, flavours was super delicious, we enjoyed every single bite of it, we all enjoyed it, but kids did enjoy it in particular. I'm sure part of their enjoyment was also fulfilled by the preparations contribution factor which surely it gives them a great sense of worthiness so the enjoyment it's by far greater than when table is just laid by mummy when they just get the call."
Notes* Bacon - we always try and get this in the best form and that's the organic way and most importantly the bacon that's containing no nitrites and no E numbers. * Here is a great recipe for home-made homemade pesto sauce. I really hope you will enjoy this breakfast as much as we do.

Serves4
Ingredients
8 waffles gluten free
6 bacon rashers
16 quail eggs
16 cherry tomatoes
60 g broccoli sprouts
2 tbsp pesto sauce homemade
2 tbsp maple syrup
2 tbsp sunflower seeds
1 pinch of Black pepper freshly ground
Instruction
Fry the bacon in a pan - I like some crispy bits here and there.

Fry the eggs in a nonstick pan greased with a puff of coconut oil spray

Toast the waffles and then plate the ingredients by topping the waffles with the bacon, the eggs and serve with a drizzle of maple syrup, a scatter of pesto sauce and a generous sprinkle of sunflower seeds and tomatoes.
Your Recently Viewed Recipes