Almond, Poppy Seeds and Blueberries Cake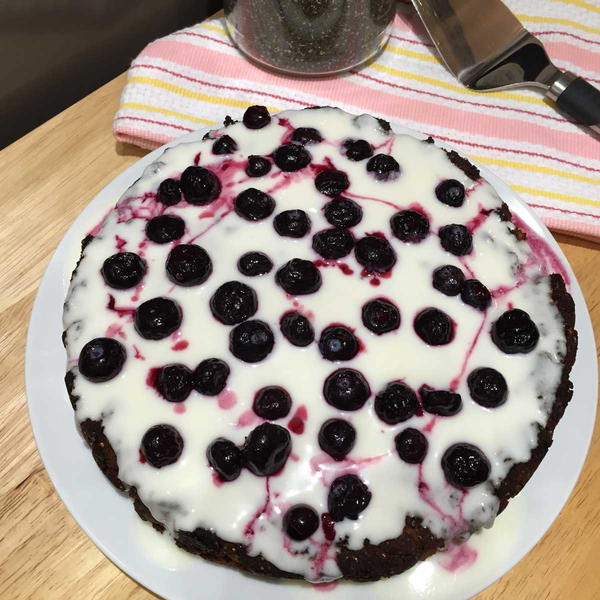 Almond Poppy Seeds and Blueberries Cake
"A good couple of years back I was saying to myself that I really want to start baking flour free cakes just to see what comes up. I have tried few things, few combinations, some were good, some …. a real mess but stil edible. The trouble is, when you use such healthy ingredients, all organic and yes, some expensive too, the last thing that you will consider is to throw that away so, even the mess was …. all eatten up. ??"
NotesThe best results for a good topping would be to use a high fat content yogurt (full fat Greek or a full fat creme fraiche so that is not too runny, however, I have chosen this time I made this delightful desert (as seen in picture) a low fat yoghurt and as you can see it was running allover the plate ? but I can reassure you the cake tasted as delish ??!!
And..... truthfully you could do that too as the crispiness and crunchiness of this cake would love a nice juicy yoghurt so go fo it too if you like to cut down on a few calories.... why not....or maybe why should you?? You decide but I have warned you - it is good whatever you decide to have it with ..... a dollop of a good home made ice-cream ...mmmmmmmmm...... to die for!!
Serves10
Ingredients
500 g almond flour
350 g blueberries (organic) fresh
4 tbsp poppy seeds
4 large eggs
1/2 tsp salt
1/2 tsp baking powder
1/2 tsp soda bicarbonate
1 tbsp cider vinegar
150 ml rapeseed oil
100 ml agave syrup or honey
Instruction
Prepare an 8 inch cake tin by greasing it and set aside until the cake batter is ready.

In a larger bowl, mix all the the almond flour, poppy seeds, baking powder, soda bicarbonate mixed with vinegar and salt. Set aside.

Place a pan on low heat, put in the honey or the syrup and the oil. Stir well until they homogenise nicely.

Add the lemon or the orange zest if you decide to put it in. I recommend you do put it in as it's really nice unless it's something that you really don't like to find in a cake. Zest the lemon and cut the orange rind and squeeze the juice from both , you can mix it together it's fine. Add three quarters of this juices into the honey and oil mix as along with the zest and the rind. If you don't want the orange bits in the cake just put few chunks of the peel in the oil and honey mixture just for a bit of a flavor and remove whenever you are ready to mix it with the other ingredients.

Beat the eggs separately and mix with the dry ingredients then add the syrup and oil liquid mixture as soon as it has cooled.

Stir well and gently until all the ingredients are well combined. Add and mix most blueberries in leaving a handfull or two for decoration.

Place the cake in the tin and then off it goes into the preheated oven and bake at 170 C ( fan assisted) or 190 C (no fan) for about 45 to 50 minutes until golden on the outside. Make sure before putting it in the oven to tap it slightly so there are no sharp/rough edges as this will burn in no time. If you feel it's getting a bit too brown just cover it with some parchment paper. It gets all that crispy edges which I really ❤️❤️ about this cake. Don't forget to keep an eye on it.

While the cake is baking nicely, prepare the glazing by mixing the yogurt with the lemon/orange juice remainder and the honey. Place this in the fridge until it is ready to be used which is only when the cake is out of the oven and is totally cooled.

When the cake is cool just spread the glazing over covering the whole surface of the cake and sprinkle some old delicious blueberries.
Your Recently Viewed Recipes