9 Copycat Popeye's Recipes
Everything from Popeye's chicken recipes to their satisfying sides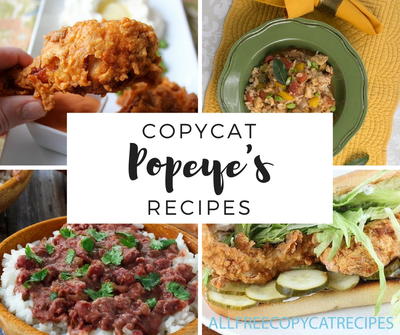 Popeye's is famous for its chicken, but there's much more than just that in these 9 Copycat Popeye's Recipes. Whether you've been craving their classic crispy chicken or you want a bowl of warm and spicy jambalaya to warm your soul, you can't go wrong with one of these Popeye's recipes.

Fried chicken is serious business. The competition is fierce, and only the best recipes survive. These country-style and cajun classics have been around for so long you know they have to be good.

These scrumptious copycat recipes are the best of the best from this classic Southern chain. Even if you're not already a fan of Popeye's Lousiana Chicken, you can tweak these recipes on your own to create your own Popeye's-inspired masterpiece that the whole family will love.

Sign Up for More Free Copycat Recipes
Table of Contents
Copycat Popeye's Chicken Recipes
The copycat chicken recipes from Popeye's simply cannot be beat. (Sorry, KFC!) Whether you like your chicken spicy and fried or nice and crispy, there's a recipe here for you. There's even a recipe for their famous delta sauce. Try one of these recipes for dinner, and you'll probably be surprised how easy it is.
Copycat Popeye's Side Dish Recipes
But wait, these delicious copycat recipes don't end with chicken! These Copycat Popeye's Side Dish Recipes are perhaps even tastier than their main dish cousins. Give them a try, and you'll be making them along with your normal dinner routine. These classic Southern copycat recipes are must-haves for any fan of Popeye's.
Your Recently Viewed Recipes