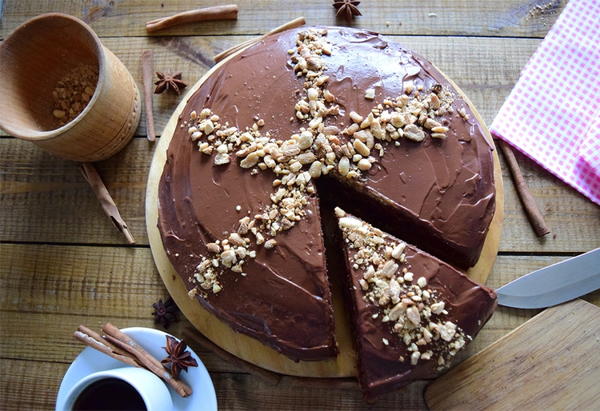 A Chocolate Cake
"To prepare a cake-surprise for a beloved family is not difficult: you should just bake a delicious cake, make cream and chocolate glaze. The products that are necessery for preparing a chocolate cake, can be easily found almost in every kitchen. A delicate, airy chocolate sponge cake definately will not leave you and your family indifferent."
Serves1 Cake, chocolate, food. cooking
Ingredients
400 grams flour
200 grams sugar
3 grams soda
3 grams baking powder
12 grams cocoa
400 grams sour cream (of any fat)
150 milliliters drinking water
300 grams boiled condensed milk
90 grams dark chocolate (we have a cocoa content of 72%)
200 grams peanuts (roasted)
Lay out the necessery ingredients.

Prepare the dry mix for the dough. Sift fiour into a large bowl, add sugar, introduce cocoa, add baking soda and baking powder.

Mix until homogeneous mass with a spatula.

In a separate bowl mix the liquid ingredients: sour cream (300 grams of the total serving), drinking water, vegetable oil. Beat into a soft mousse with a whisk until smooth.

Add the liquid mixture to the dry ingredients. Form the dough through mixing. It should be enough fluid on the structure.

Lay parchment paper at the bottom of the baking form (we have a diameter of 24 cm). Pour the ready chocolate dough in. Place in a preheated oven for 40 minutes (180 degrees).
Your Recently Viewed Recipes