Almond Flour Cake with Apricots, Coconut and Mint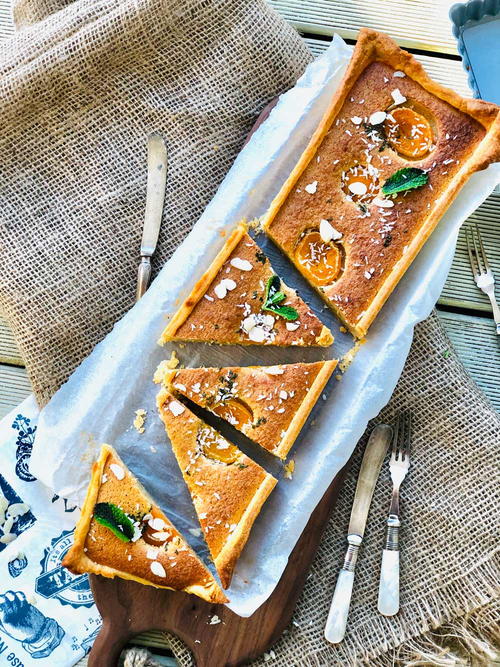 Almond Flour Cake with Apricots Coconut and Mint
"I have made this almond cake with apricot, coconut and mint many times before. It really is a beautiful, full of flavours and super easy to make dessert. If you choose to work with a ready made pastry, this tart will be prepared in 10-15 min plus baking. Hmm, something to think about, I know. Ready bought pastry is great and delivers quickness but it is not to be compared with the homemade version. This almond, apricots, coconut and mint tart is absolutely delicious. Perfect treat for your family or friends, to enjoy with a cup of coffee or tea."
Notes* You may need to scrape the sides of the bowl in between adding the ingredients.
* Transferring the pastry into the tin can be tricky sometimes. To avoid any surprises ?I always fold the pastry on the rolling pin and transfer it gently into the tin. It's easier and it will not break. Easy trick indeed, but will save possible aggravations.
Serves6
Ingredients
For the pastry:250 g flour I use light spelt flour
125 g unsalted butter cold and cubed
50 g icing sugar
2 egg yolks
1 tbsp buttermilk or yoghurt
1 pinch salt pink Himalayan
For the tart:120 g canned apricots approx 6 med halves
125 g cream cheese
100 g cane sugar
125 g ground almonds
Instruction
Preheat the oven to 170°/160°C fan assisted or 325°F and grease a tart tin or pan. I used a rectangular tin (36cm x 12cm x 2.5 cm) 14" x 4.75" x 0.98". I have lined this with parchment paper.

To make the pastry start by placing the flour into a bowl and mix together the cold cubed butter, icing sugar and the pinch of salt until it resembles a breadcrumb texture. Mix in the egg yolks and the yoghurt or the buttermilk. Mix further until it begins to come together. Take out on a floured surface and knead for a further two minutes.

Place in the fridge for a good 10 minutes to chill.

While the pastry is chilling nicely in the fridge let's prepare the filling by beating together the cream cheese (I used full fat Philadelphia cheese) and the sugar until pale and smooth.

Add one egg at the time while continuing to mix, a pinch of salt, apricot extract, the finely chopped mint, the ground almonds and mix further at a lower speed until it is of a nice consistency.

Take the pastry out of the fridge and place on a floured or oiled surface. Using a rolling pin roll the pastry into a rectangle until it gets to approximately 3-4 mm thick.

Transfer the pastry into the tin, arrange it nicely and gently prick the bottom using a fork.

Place another parchment sheet over the pastry, put the baking beans slightly pushing those around to spread evenly. Blind bake it in the preheated oven for about 10 minutes at 170°C/325F.

When ready, take the pastry out of the oven, carefully remove the baking beans (caution, they are hot!. I do this operation by picking the 4 corners of the parchment paper. Allow it to rest for 5-10 mins.

Pour the filling mixture in spreading it uniformly and add approx 7 halved apricots arranged nicely on top. I used canned halves and these were on the smaller side.

Place in the preheated oven and bake for 40 to 45 minutes at 170°C gas mark 4 until it get to a golden colour or becomes lightly brown (just as I like it).

Once baked, take out of the oven, allow it to cool slightly. Sprinkle some almond flakes and coconut over, decorate with some mint leaves and serve.
Your Recently Viewed Recipes