Banana, Pecan and Coconut Loaf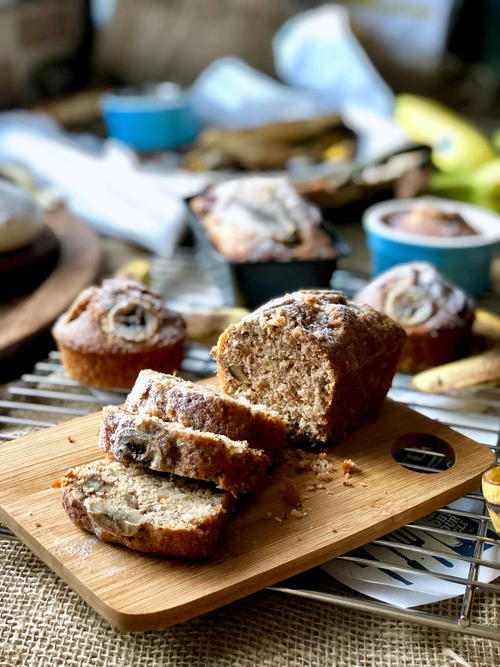 Banana Pecan and Coconut Loaf
"There is banana loaf and there is this banana, pecans and coconut loaf. Seriously good guys! OMG, I just realised, I have not posted something sweet in ages! Why, you may ask. Well, no idea! Maybe because baking does not happen every day although I have to say we did make loads of treats over the last few weeks so keep tights we are here for a sweet ride. The next posts will be dessert, dessert, dessert. I promise, at least 2-3 to keep the balance here ??."
NotesMy tins were super cute and small so I've used some ramekins too, of course to please all the gobblers around the house, especially the little munchkins.
Bananas have to be nicely ripe in fact they're best when their skin has brown dots or marks. Increase the sugar amount by 30-40g (1-1.3oz) if you like this loaf extra sweet but remember the desiccated coconut will add to its sweetness even if unsweetened version it's used.
Storage:
This wonderful and delicious banana loaf can be stored into air tight containers or wrapped in plastic for 3-4 days at room temperature or more if kept refrigerated.
It freezes really well for up to 15-20 days but thawing should be done ideally overnight and this can be at room temperature.
Serves10
Ingredients
280 g banana mashed 3 bananas + 1 to add on top
190 g sugar I used cane sugar unrefined
4 eggs medium room temperature
50 g desiccated coconut
50 ml olive oil any other oil will be good
3 tbsp chia seeds
280 g self-raising flour I used wholemeal organic
70 g pecan nuts toasted
1/4 tsp salt I have used pink Himalayan
Instruction
Preheat the oven at 185C or 325°F. Grease two small loaf pans or one regular size.

In a bowl combine the flour, baking powder, chia seeds, desiccated coconut and salt.

In a separate which can be the bowl of an electric mixer, mix the sugar and the 4 eggs. Beat until it becomes a light and fluffy mixture. This should be done at a medium speed for about 4-5 minutes.

While still mixing, add the oil little by little or pouring it in continuously until all is in.

Add the mashed bananas and mix at low speed for 30 seconds, just enough to incorporate these.

Using a spatula, fold in the flour mixture gently. Add the chopped and toasted pecans.

Pour the batter into the already prepared loaf pans. Peel one banana and cut into two lengthwise. Add on top.

Bake for about 40 minutes or so until golden brown. Use a wooden skewer to make sure it's done.

When ready, take out of the oven. Allow it to cool for 10-15 minutes and then take out and cool completely, ideally this should be done on a wire rack.

Can be served warm or cold with a nice dollop of creme fraîche, ice cream or a nice Greek yoghurt. Enjoy!
Your Recently Viewed Recipes