Copycat Cheesecake Factory Oreo Cheesecake Recipe
This Cheesecake Factory classic is a restaurant dessert recipe you won't want to miss!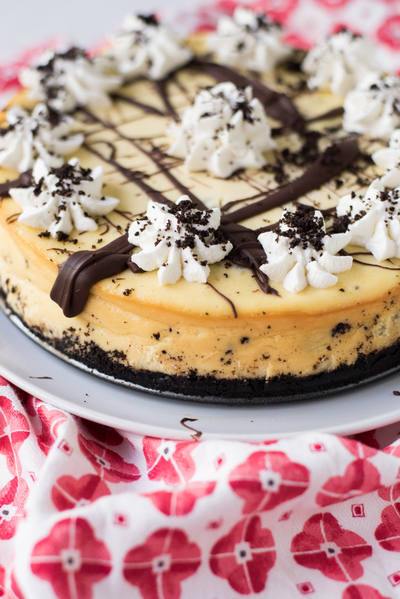 Copycat Cheesecake Factory Oreo Cheesecake Recipe
Copycat Cheesecake Factory Oreo Cheesecake recipe is one you'll want to keep in your recipe book. If you've ever tasted this amazing recipe from the Cheesecake Factory, then you know exactly how delicious it's going to be.

This delightful cookies-and-cream concoction is a quick and easy cheesecake recipe that the whole family will love! The only thing better than the Cheesecake Factory's desserts is making them yourself. Afterall, everything's better when it's homemade.

This recipe was inspired by Ashleigh Hinrichs' reader-favorite Oreo Cheesecake recipe.

Sign Up for More Copycat Recipes
Yields8 Servings
Ingredients
1

1

/

2

cup Oreo cookie crumbs, about 25 Oreo cookies, finely chopped
2 tablespoons unsalted melted butter
3 packages cream cheese (8-ounce packages), room temp
5 eggs, room temp
2 teaspoons vanilla

1

/

4

cup flour

1

/

4

teaspoon kosher salt
8 ounces sour cream, room temp
9 Oreo cookies, chopped for the cheesecake batter

1

/

2

cup semi-sweet chocolate chips, melted (for garnish)
1 teaspoon coconut oil, melted with chocolate chips (for garnish)
Whipped cream (for garnish)

1

/

4

cup finely chopped Oreo cookies (for garnish)
Instructions
Heat oven at 325 degrees F. Butter the bottom and sides of a 9-inch spring form pan. Wrap foil around the bottom and sides of the pan to prevent any leaks.

In a medium mixing bowl, combine the cookie crumbs and melted butter. Evenly press the cookie crumb mixture in the bottom and about 1 1/2 inches up the sides of the pan.

In the bowl of a stand mixer on medium speed, beat the cream cheese until light and fluffy.

Add the sugar a bit at a time until mixed in.

Beat the eggs in one at a time until well-blended after each addition.

Add in the vanilla, flour, and salt and mix to combine. Add the sour cream and beat.

Stir in the chopped Oreo cookies.

Pour the batter into the prepared pan and bake for 60-75 minutes until almost set.

Turn off the oven, prop the door open, and let the cheesecake sit for one hour.

Remove cheesecake from the oven and place on a wire cooling rack. When cool enough, place in the fridge overnight.

Garnish the cheesecake. Melt the chocolate chips with the coconut oil in a microwave-safe bowl in the microwave oven for 15 seconds at a time until melted. Drizzle over the top of the cheesecake.

Pipe the top of the cheesecake with whipped cream and sprinkle with the Oreo crumbs.
Your Recently Viewed Recipes