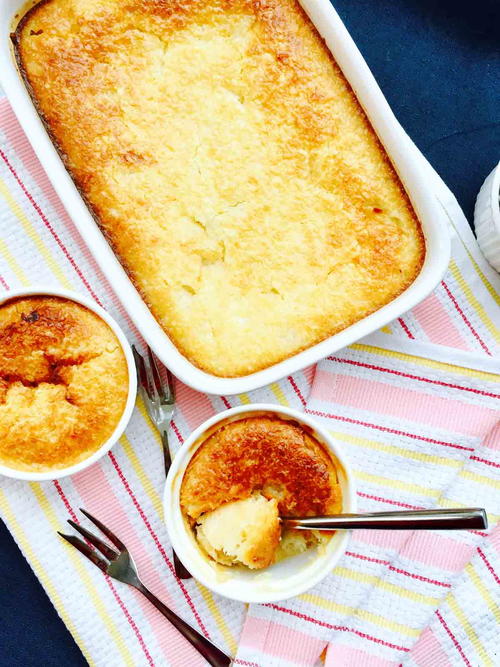 Crme Coconut
"It is gluten free, it is absolutely perfect sweetness wise (for my taste buds), it has a lovely soft, creamy, velvety texture – in one word, it is heavely and soooooo LOVELY?. It is something pretty similar with the crème caramel (I will post this delicious recipe very soon) that my mum used to make when I was a kid which I used to love so much. She still does and I still love it ? very, very much."
NotesIf you decide to use ramekins, you will need to pour the mixture in maybe using a ladle and mixing continuously as you want to spread the desiccated coconut evenly across; this is because, as I was saying earlier, the desiccated coconut will end up at the top forming a top layer which is the sweetest part of the dessert. You would definitely like your desert to be a fairly balanced one.

Serves8
Ingredients
397 g condensed milk 1 can
270 ml coconut milk 2/3 of a 400 ml can
4 whole eggs
330 ml milk
110 g coconut (desiccated)
Preheat the oven at 190 C (375 F). This recipe will have the simplest ever instruction as you will need to mix all ingredients in a bowl, whisk nicely to incorporate everything. Place in a pre-greased oven dish (approx 9-10 in) or ramekins.

Pour over the mixture into desired baking dishes.

Bake at 190 C for 20-35 min depending on the dish size. It is easy to say when is ready. The beautiful golden colour will be the best indicator as well as the fact that it becomes nice and solid so another way of testing it for readiness is to touch the top of the desert with your finger (mainly by the middle area if the dish is a larger one). If it feels solid, it's done.
Your Recently Viewed Recipes