Marbled Chocolate, Mini Marshmallows and Peanut Bars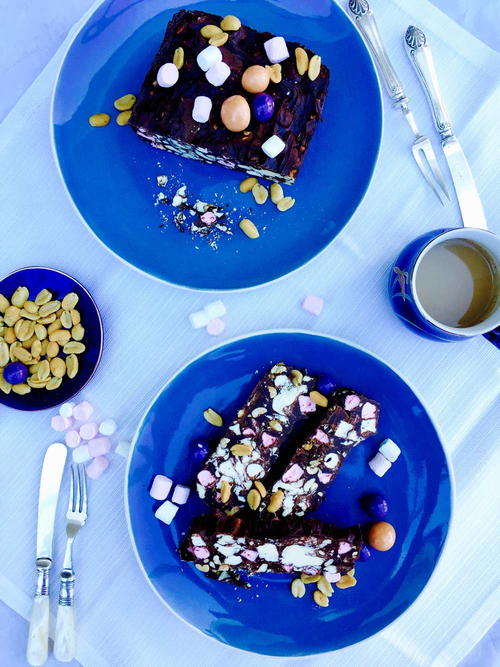 Marbled Chocolate Mini Marshmallows and Peanut Bars
"Proudly, I can say I am very satisfied with how this peanut bar dessert came out as it is to die for, it is that seriously good considering this very one was a first attempt. I know there isn't much here that could go wrong but… it is gooood!? Summer holidays so far… Summer holiday is at its peak and so far it has been packed full with activities such as trampolining, going out, movies, park, nice long walks, picnicking, cooking and making super yummy delights like this chocolate and peanut bars with mini marshmallows. Yummmmm!!!"
NotesHow to store it?
In the fridge....
If you decide to store it in the fridge (if it is too hot outside) it has to be taken out prior to cutting it, 15-20 min will do just fine,or ...best for fridge storing option is to cut it all into the desired piece size and shape and then store it in the fridge.
Outside the fridge...
It's can be kept outside even in summer times as long as it somewhere in the shadow and a little bit of a cooler corner under a glass bowl and cut as much as you would like to consume.
Melting white chocolate ….
Not as easy as melting the dark chocolate since this contains no cocoa solids and it can easily turn lumpy, grainy and scorches rapidly.
It is all about the temperature that needs to be right and the whole idea is that the temperature isn't too hot.
If you melt it over a saucepan of warm water (better than microwave as you can be more in control over the temperature) you will need to choose a bowl that sits snugly over your chosen saucepan.
The bowl should not come in contact with the simmering water in the saucepan.
White chocolate scorches at just 44°C so the temperature needed is really a few degrees above our body temperature.


The best way to melt white chocolate is to chop your chocolate into evenly sized pieces or use chocolate chips, by stirring regularly.
Serves12 People
Ingredients
230 g dark chocolate 70+ % cocoa mass
180 g white chocolate keep 50g aside to chop
50 g mini marshmallows (I used white and pink)
80 g dulce de lèche sauce (caramel sauce)
50 g chunky three nut butter
40 g peanuts (slightly salted and roasted)
Instruction
Place the peanuts into a larger bowl along with the three nuts butter, dulce de lèche caramel sauce, marshmallows and some of the white chopped chocolate (the 50g that needs chopping).

Melt the dark chocolate either into a small bowl over boiling water or in the microwave, if you have or use one. If the chocolate is too hot allow it to cool for 2 minutes. This has to be melted but not super hot as it will melt the marshmallows.

Melt the white chocolate (see recipe notes for tips) and add to the chocolate and peanuts mixture. Stir it in slightly if you want some white chocolate into larger lumps or stir more for thinner white chocolate threads.

Pour the dark melted chocolate over the other ingredients already in the bowl. Give it all a good stir.

Overlay a dish of your choice (I used a porcelain dish 15x10cm) with one layer of clingfilm.

Pour over the chocolate mix, level it with a spatula, it is lumpy but just level it to make sure that the chocolate has evenly gone into all the corners and has filled the bottom of the dish properly and evenly.

Place in the fridge for a minimum of 20 minutes or 10 minutes in the freezer if you are in a hurry, and I am sure you are as it is hard to wait...;-)

After it sets you can keep it out of the fridge and I recommend that before attempting to cut it let it be out of the fridge for a while so cutting it is easier. (See recipe notes).
Your Recently Viewed Recipes