Pioneer Woman Pumpkin Sheet Cake Copycat
This easy pumpkin sheet cake is inspired by the cooking celebrity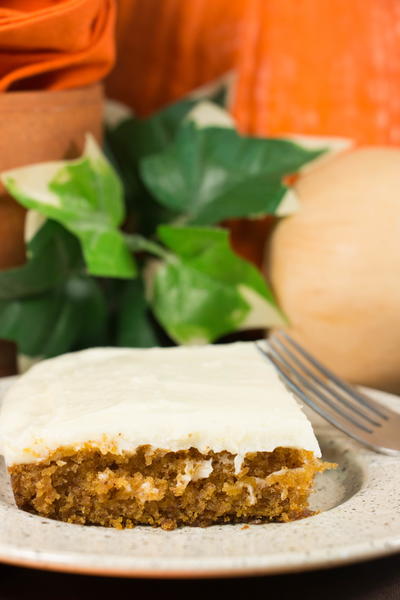 Pioneer Woman Pumpkin Sheet Cake Copycat
This moist and heavenly Pioneer Woman Pumpkin Sheet Cake Copycat was inspired by one of the Pioneer Woman's delicious desserts. This has a pumpkin cake base and a sweet cream cheese frosting. Although it is made with simple ingredients, it has amazing, complex flavor. Buttermilk baked into the cake gives the cake a rich and unforgettable flavor.

Since it's baked into a cooking sheet, this pumpkin sheet cake is thinner than regular cake, making it the perfect size to enjoy a piece without getting too full. Of course, this cake is so good that you might be tempted to take one or two extra pieces as well. We wouldn't blame you!

If you make this delicious fall dessert recipe for your family, they won't soon forget it. You may even be asked to make it any time of year, not just around Halloween or Thanksgiving. And when pumpkin tastes this wonderful, why would you want to wait until the fall to enjoy it?

Sign up for more free copycat recipes!
Ingredients
2 sticks butter
2 cups pumpkin or squash puree (see note)
2 cups flour
2 cups sugar
2 teaspoons pumpkin pie spice

1

/

4

teaspoon salt

1

/

2

cup buttermilk
2 eggs
2 teaspoons baking soda
2 teaspoons vanilla extract
For the Frosting:
8 ounces cream cheese, at room temperature
1 stick butter, at room temperature
pinch of salt
3 tablespoons maple syrup
1 pound powdered sugar
Instructions
Preheat oven to 350 degrees F. Spray a 12 x 17 x 1 (half-sheet) pan with cooking spray.

In a medium saucepan over medium heat, melt the butter and whisk in the puree, cooking just a few minutes and stirring until well combined. Cool slightly.

In a small bowl, combine buttermilk, eggs, soda and vanilla and let stand 5 minutes. In another bowl, combine flour, sugar, pie spice and salt and toss well with a fork to combine.

Stir the dry mixture and the pumpkin mixture together, scraping the bottom of the bowl well, then stir in the buttermilk mixture, stirring until well combined. Pour the batter into the prepared bake pan and tilt and smooth to make an even layer. Bake for 20 minutes. The top should begin to look dry and golden brown and pressing gently with a finger into the center should not leave an impression. Place on a wire rack until completely cool.

Make the frosting: In an electric mixer beat the cream cheese and butter until smooth. Add the powdered sugar and salt and mix on low, stopping to scrape the bottom of the bowl once or twice. Add the maple syrup gradually and continue to mix until frosting is very smooth and spreadable. Use an offset spreader to cover the cake with the frosting

and either serve immediately or refrigerate until ready to serve. Store cake in the refrigerator.
Note:
If you are using canned pumpkin, be sure to buy the puree, NOT the pumpkin pie mix, which already has several other ingredients included in it.
Your Recently Viewed Recipes