Santa's Strawberry and Brownie Hats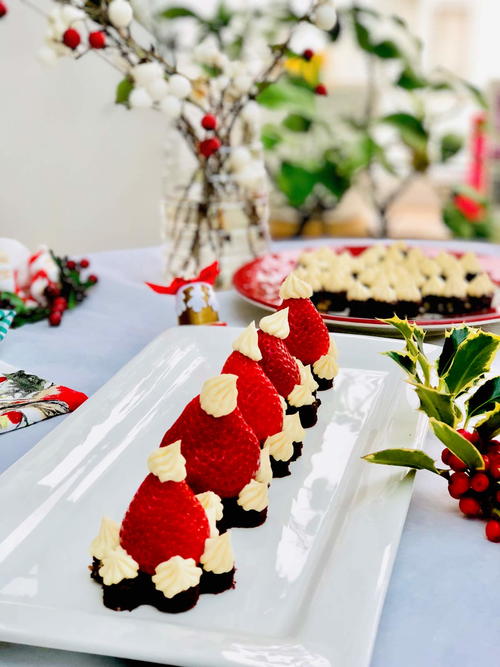 Santas Strawberry and Brownie Hats
"These cute little things came about a few months back and the idea or recipe had to come out now fit for the perfect time of the year when the cute hats will suit perfectly and make Santa ? such a happy man! I do enjoy having the kids around the kitchen helping or doing things and what I like the most is that they're very good at what they do and have a lot of kitchen sense and skills somehow. Strawberries mounted on a homemade delish brownie decorated with Baileys cream - a real Christmas treat!"
Notes• This recipe makes anything between 16-20 pieces depending on how you cut them. Try and cut them as neatly as you can and as next to one another as possible so you make the most of them with not much "waste". No excuses for early brownie munching on the premise that you cut them badly!! Do a neat job please

Serves4
Ingredients
For the brownie:190 g cane sugar
120 g brown butter melted
75 g raw cacao powder
50 g flour
30 g dry cranberries
2 eggs
1 tbsp heaped creme fraiche
1 tsp Vanilla or rum essence
For the hats:16-20 strawberries
200 g Baileys thick cream *
Instructions
Prepare and grease an oven tray or an ovenproof dish (I used a 28cm round glass one). Grease it and preheat the oven to 150°C if fan assisted and 170°C if it is not.

Melt the brown butter or brown it now if you don't have any and set aside - see recipe notes how to brown the butter.

In a medium sized bowl, combine the sugar, vanilla and cacao powder, and the salt. Mix these slightly while dry and then add the butter slowly whisking gently.

Add the eggs which should be at room temperature, one by one and beating in between. Beat this for a minute or two.

Add the flour gently and incorporate this in nicely, then add the nuts (roughly chopped and toasted) and stir them in a little more equally spread them within the mixture.

Spoon the mixture into the prepared oven dish and bake for 20 mins. The mixture should be around 1 cm thick.

While the brownie bakes, start preparing the strawberries by washing and slice the top from each strawberry to leave a flat base.

When brownies are ready, take them out of the oven and if you used parchment paper you can take the brownie out on a wire rack for it to cool faster. If no parchment was used just allow it to cool in the actual dish. It is important that you allow it to cool before starting to cut into it.

When brownie has cooled, using a cookie cutter, can be any desired shape, (I used a flower shape with 6 petals) begin to cut your little Santa hats base. Place the cut ones on a plate. It can be the actual serving plate.

Using a piping bag with a small nozzle, pipe a dot of the thick cream into the centre of each cooled brownie and top with a strawberry. Pipe around the base of each strawberry few more dots and finish with a small dot of cream on the pointed top to make a tiny cute little bobble for Santa's hat.

Serve and enjoy these attractive little cuties!?
Your Recently Viewed Recipes