Santas Strawberry and Brownie Hats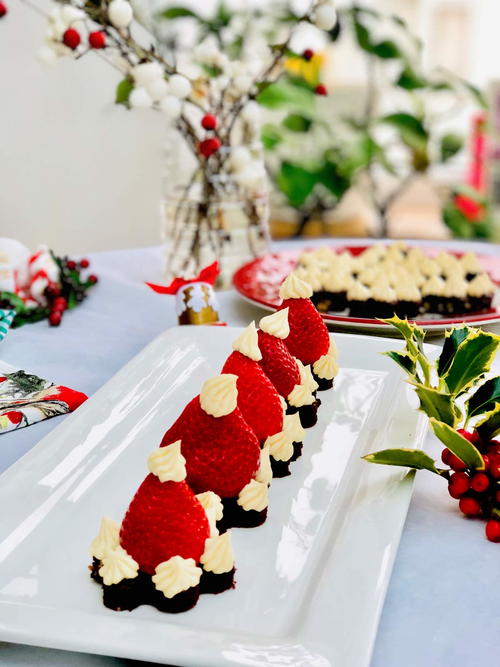 Santas Strawberry and Brownie Hats
"These cute little things came about a few months back and the idea or recipe had to come out now fit for the perfect time of the year when the cute hats will suit perfectly and make Santa <… such a happy man! Of course you could use already made brownies either previously baked or go the naughty way with using shop bought ones to save time and you will have those ready in a fraction of the time. Strawberries mounted on a homemade delish brownie decorated with Baileys cream - a real Christmas treat!"
Notes" This recipe makes anything between 16-20 pieces depending on how you cut them. Try and cut them as neatly as you can and as next to one another as possible so you make the most of them with not much waste. No excuses for early brownie munching on the premise that you cut them badly!! Do a neat job please

" With the left overs you could make another dessert with cream fruits and brownie crumbs (if any left)

" Depending on what shape you use or want to cut those into, I would recommend you chop the nuts slightly smaller to put inside the brownies and the more rough ones sprinkle on top so when you cut your little hats base you dont get it messed up by a big chunky nut getting on the way spoiling its shape.

The top ones you can see and work around those. This is called experience. . However, if you are using just a simple round cutter this will not matter so much.

" The Baileys thick cream you could buy ready made or make it yourself by simply mixing 2-3 tbsp Baileys into 200ml cream and 40g or more of sifted icing cane sugar. It is simply delicious. Take my word for it.

" For the children I make a separate batch and I add rum essence instead of Baileys cream since this is a boozy option even though it is not much of it.
Serves4 People
Ingredients
190 g cane sugar
120 g brown butter melted
75 g raw cacao powder
50 g flour
30 g dry cranberries
2 eggs
1 tbsp heaped creme fraiche
1 tsp Vanilla or rum essence
For the hats:16-20 strawberries
200 g Baileys thick cream
Prepare and grease an oven tray or an ovenproof dish (I used a 28cm round glass one). Grease it and preheat the oven to 150°C if fan assisted and 170°C if it is not.

Melt the brown butter or brown it now if you dont have any and set aside - see recipe notes how to brown the butter.

In a medium sized bowl, combine the sugar, vanilla and cacao powder, and the salt. Mix these slightly while dry and then add the butter slowly whisking gently.

Add the eggs which should be at room temperature, one by one and beating in between. Beat this for a minute or two.

Add the flour gently and incorporate this in nicely, then add the nuts (roughly chopped and toasted) and stir them in a little more equally spread them within the mixture.

Spoon the mixture into the prepared oven dish and bake for 20 mins. The mixture should be around 1 cm thick.
Your Recently Viewed Recipes