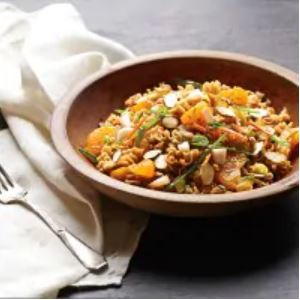 Asian Almond Ramen Salad
Panera's Asian Almond Ramen Salad is a perfect light lunch packed full of seasoned vegetables. The salad itself is covered in a delicious vinegar dressing. The dressing and the salad are easy to make. For the dressing, simply whisk all the needed ingredients together. The rest of the salad ingredients get tossed into the dressing after the ramen pieces have had time to absorb excess liquid. This delicious salad can be served cold or at room temperature. 
Ingredients
Dressing:
3 tablespoons rice vinegar or cider vinegar
1 tablespoon soy sauce
1/4 cup canola oil
1 teaspoon toasted sesame oil
1/2 teaspoon honey
1/2 teaspoon grated fresh ginger
1 clove garlic, minced or pressed
Salad:
1 package (3 ounces) ramen noodles, any flavor
1/2 cup snow peas (2 ounces), sliced lengthwise into thin strips
½ cup shredded carrots
1 scallion, chopped
1 can (8 ounces) sliced water chestnuts, drained and chopped
1 can (11 ounces) mandarin oranges in juice, drained
1/4 cup sliced almonds
1 tablespoon sesame seeds
Instructions
To make the dressing, whisk all the ingredients in a medium serving bowl until blended.

For the salad, discard the ramen seasoning packet. Crush the ramen in the bag into very small pieces with a heavy skillet or your hands. Add them to the bowl with the dressing and toss to coat. Let the ramen stand at room temperature, stirring now and then, until the liquid is mostly absorbed, about 45 minutes.

Gently fold in the snow peas, carrots, scallion, and water chestnuts. Fold in the oranges and then scatter on the almonds and sesame seeds. Serve at room temperature or refrigerate for up to 2 days and serve cold.
Your Recently Viewed Recipes